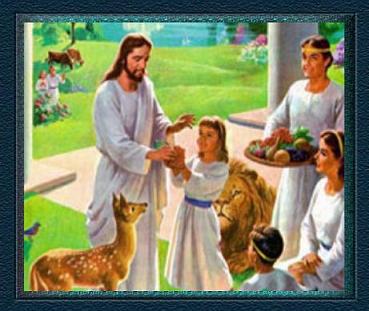 "The wolf also shall dwell with the lamb, and the leopard shall lie down with the kid; and the calf and the young lion and the fatling together; and a little child shall lead them.
And the cow and the bear shall feed; their young ones shall lie down together: and the lion shall eat straw like the ox."
Isaiah 11:6
e-mail
midnightcry1844@uniserve.com
Beauty Of Jesus
Come Home to Health
Recipes
More Stories For Children
http://morestoriesforchildren.ca
Songs Of Victory
The Sweetness Of Music
http://thesweetnessof music.com
Angels
Bath-Sheba
Be Like Jesus
Deception
From The East
Mountain Top
Do You Want To Plant A Garden?
Poems To Ponder
What About Tomorrow
To Be Honored
Miracles
Dreams
Poetry Of Motion
Stories For Children
A Mother's Touch
Sing Praise Unto The Lord
http://iwillsinguntothelord.yolasite.com
Sing The Word Scripture Songs
http://singthewordscripturesongs.ca
Amazing Grace
http://amazinggrace.yolasite.com
Sanctuary Prophecy
http://sanctuaryprophecy.ca
What Must I Do To Be Saved
http://whatmustidotobesaved.yolasite.com
Rhythm For The Season
http://rhythmfortheseason.yolasite.com
Stories Of Integrity
http://storiesofintegrity.com
Bathsheba
http://bathsheba.ca
God's Second Book
http://godssecondbook.yolasite.com
Sunday Laws
http://sundaylaws.yolasite.com
The Child's Nature Poems
http://thechildsnaturepoems.yolasite.com
e-mail
midnightcry1844@uniserve.com