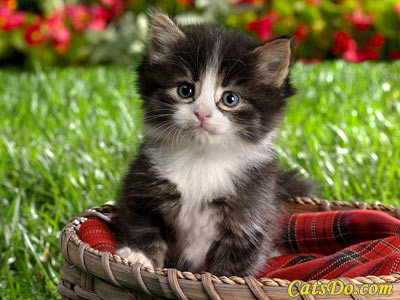 A WORD FITLY SPOKEN.
VERY much good often comes from what Solomon calls "a word fitly spoken." The Hebrew for "fitly spoken" here means "set on wheels." All our words are set on wheels. If they are good words, they are wheeling on for good. If they are evil words, they are wheeling on for evil.
One day a boy was tormenting a kitten. His little sister, with her eyes full of tears, said to him, "O Philip, don't do that; it is God's kitten." The little girl's words were not lost. They were set on wheels. Philip left off tormenting the kitten, but he could not help thinking about what his sister had said.
"God's kitten, God's creature for he made it," he said to himself; "I never thought of that before." The next day, on his way to school, he overtook one of his companions beating unmercifully a poor half-starved dog. Philip ran up to him, and before he knew it, was using his sister's words, saying, "Don't do that, Ned; it is God's creature."
The boy looked ashamed, and tried to excuse himself by saying that the dog had stolen his dinner. "Never mind," said Philip, "you shall have half of mine."
So they went on their way to school together, and soon forgot all about the dog.
But Philip's words had been set on wheels again, and much good followed them.
Two persons were passing just as Philip spoke, and they heard his words. One was a young man in prosperous business in a neighboring town; the other was a ragged, dirty, miserable-looking creature.
He had formed the habit of drinking, and in consequence of this had just been dismissed by his employer, and was going home in despair. "God's creatures," said the poor fellow, and it seemed a new idea to him too. "If that dog is God's creature, then I am God's creature, too, and he will help me if no one else will." Just then he came to a tavern where he had been in the habit of wasting his money and then going home to abuse his family. He stopped a moment the temptation was very strong to go in, but the new thought was stronger. "No, I'm God's creature," he said to himself, "I'll go in there no more." And he went on toward home.
His wife was astonished to see him come home sober, and still more so when he burst into tears, saying that he was a ruined man, and was determined to give up drinking, and try, by God's help, to be a better man.
Just then a knock was heard at the door. It was the gentleman of whom we have just spoken. He, too, had heard Philip's words. They were words on wheels to him.
They went rolling after him. He could not get away from them. "This is one of God's creatures, too," he said to himself as he looked at the poor, ragged man who was walking before him. "He looks as if he needed help," he went on to say, "and perhaps I can give it to him." This led him to follow the poor man to his home. He offered him work, which was thankfully received, and faithfully done. The poor fellow was never found in a tavern again, but became a sober, industrious, useful, happy man. And the simple words which that little girl set on wheels were the means of doing all this good.
Ex.