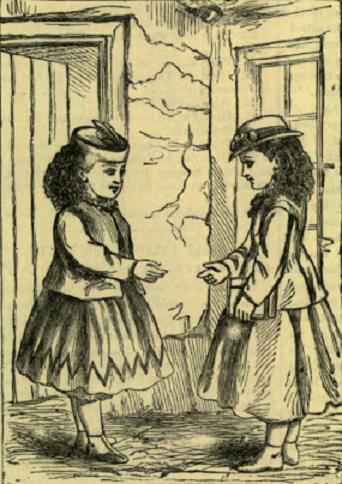 THE COUSINS.
MINNIE BROWN went to visit her cousin Laura, who lived in Massachusetts. She was going to stay "a whole week," so she told papa and mamma; but papa and mamma thought that she would be homesick in less than a week, for she was only a little seven-year-old girl, and had never been separated from mamma one night.
Now, can some of our little Yankee readers guess how Minnie made the journey of thirty miles that stretched between the city where she lived and Laura's country home?
You guess that her father, or big brother Hal, or one of the servants of the household went with her.
But you haven't guessed right. Not one person that she had ever before seen was on the train that carried her to the country.
Do you think that her parents were willing to run the risk of sending a little girl like Minnie all alone on a journey? They did send her alone, however, but it was not quite in the ordinary way. About her neck they put a little ticket,
on which it said,
BY EXPRESS.
CARE JONAS POND,
MINTON, MASS.
C. O. D.
These last mysterious letters meant, "Collect on delivery." Or, in other words, that her Uncle Jonas was requested to pay the express man when this curious little package was brought to his door.
This, Uncle Jonas did very gladly, and two happier children were nowhere to be found in country or city, than these two little girls, Minnie and Laura. They played in the fields and woods, gathering wildflowers, and coming home tired and hungry. They hunted for hens' nests, played "house-keeping " in the wide, roomy barn, and were, in a word, two very merry little girls. On the Sabbath they took their Bibles and went to Sabbath-school. Minnie staid "a whole week," not being homesick once; but oh, how glad she was to be at home again, and see papa, mamma, and brother Hal!
Select