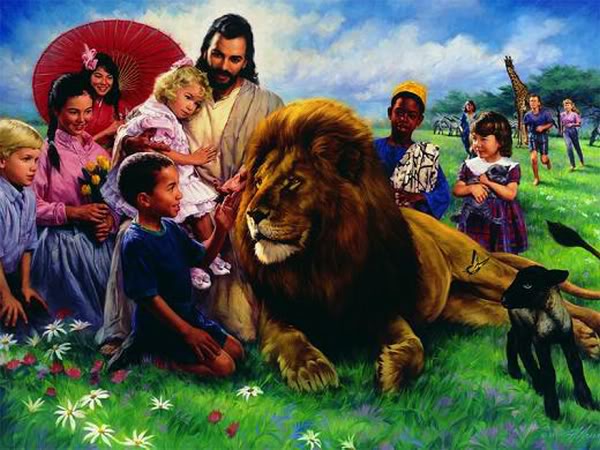 Come To Jesus
"SUFFER little children to come unto me,
and forbid them not;
for of such is the kingdom of
God."
Luke 18:10.

Children, these words are what our Lord said
when he was upon earth. At that time he placed
his hands upon little children's heads, and
blessed them. Will you not endeavor to please
him for the kindness and affection he bestowed
upon children like yourselves? Remember that
one way to please him, is to obey your parents.
Second, to keep the commandments of God.
Third, to be kind to each other. Fourth, to be
meek and humble like Jesus, and reverence his
holy name. Remember, all good children he calls
his lambs. The Lord tells you to "honor thy
father and thy mother," and keep holy the
Sabbath day. Now is the acceptable time.
This very day, not to-morrow. "Boast not thyself
of to-morrow, for thou knowest not what a
day may bring forth." Children who keep the
sayings of Jesus, and the commandments of God,
will be blessed for the time they are permitted to
remain here below, and after God's stated time,
then will come to pass the sayings that are
written in Isaiah 11:6-9.
"The wolf also shall dwell with the lamb, and
the leopard shall lie down with the kid; and the
calf, and the young lion and the fatling together;
and a little child shall lead them. And the cow
and the bear shall feed; their young ones shall lie
down together; and the lion shall eat straw like
the ox, and the sucking child shall play on the
hole of the asp, and the weaned child shall put
his hand on the cockatrice's den. They shall not
hurt nor destroy in all my holy mountain; for the
earth shall be full of the knowledge of the Lord,
as the waters cover the sea."
There is comfort for you, children, for the Lord
hath spoken it, and what he hath said, you may
rest assured he will perform. Remember, he
loves the child's prayer, and he will not reject
your offerings.
G. T.