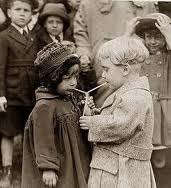 Be Kind In Little Things
The sunshine
of life is made up of very little beams that
are bright all the time. In the nursery, on
the play-ground, and in the school-room, there
is room all the time for little acts of kindness
that cost nothing, but are worth more than
gold or silver. To give up something, where
giving up will prevent unhappiness to yield,
when persisting will chafe and fret others
to go a little around rather than come against
another to take an ill word or a cross look
rather than resent or return it these are the
ways in which clouds and storms are kept off,
and pleasant, smiling sunshine secured, even
in the humble home among very poor people,
as in families in higher stations. Much that
we term the miseries of life would be avoided
by adopting this rule of conduct.
Good Manners.
EVERY household should cultivate good
manners. They are indispensable, even to the
young. A churlish, rude deportment bespeaks
a low, unfeeling mind. No position, wealth,
or education, can make amends for it. Good
manners are attractive and winning, and
should be carefully observed in every family
circle. Parents should never indulge themselves
in careless manners or coarse language,
much less their children or domestics. The
feelings of those of inferior stations should be
regarded as well as those of the highest.
A TWELVE-YEAR old Swedish girl, who, after
a fortnight's trial, left a house in Maine in
which she was employed as a domestic, said
she liked the place and the people, but she
dared not live with folks who never prayed.
YI