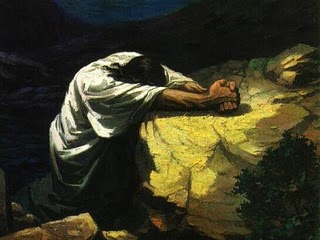 GETHSEMANE.
THE so-called garden of Gethsemane is a retired place; containing about half an acre of land, on the western side of Mount Olivet, and commanding a full view of the city of Jerusalem. It was called "a garden," though it was probably a grove, laid out in walks and furnished with fountains, affording shade and seclusion to those who resorted thither from the noise and distraction of the city. It is at present a plot of ground nearly square, and enclosed by an ordinary stonewall, which the Latin monks at Jerusalem have built. In the garden are several venerable olive trees some of which are shown in the view given in the picture with stones thrown together around their trunks; and the monks have of late years planted it with trees, laid out hedges and flower-beds, and seem disposed to make it like a modern pleasure ground rather than the secluded spot one naturally supposes it was when the Saviour retired thither with his disciples on that mournful night of his agony.
But whether this is the real site of the garden of Gethsemane is a matter of question among travelers. Dr. Robinson says: " There is nothing peculiar in this plot to mark it as Gethsemane, for adjacent to it are other similar enclosures, and many olive trees equally old." "But," says he further, "giving myself up to the impressions of the moment, I sat down here for a time alone beneath one of the aged trees. All was silent and solitary around; only a herd of goats were feeding not far off, and a few flocks of sheep grazing on the side of the mountain.
High above, towered the dead walls of the city, through which there penetrated no sound of human life. It was almost like the stillness and loneliness of the desert. Here, or at least not far off, the Saviour endured that 'agony and bloody sweat' which was connected with the redemption of the world; and here in deep submission he prayed, 'O my Father, if this cup may not pass away from me except I drink it, thy will be done!'"
If the present garden be the true site of Gethsemane, in no place on the earth, perhaps, would reverential silence be more becoming than here, where the Son of God was crushed to the earth in that mysterious agony.
"He trod the wine-press alone, and of the people there was none with him." Though we cannot comprehend the full significance of that hour, we can meditate in wonder, and adore.
"'Tis midnight; in the garden now
The suffering Saviour prays alone.
'"Tis midnight ; and from all removed,
The Saviour wrestles lone with fears;
E'en that disciple whom he loved
Heeds not his Master's grief and tears.
'"Tis midnight; and for others' guilt
The Man of Sorrows weeps in blood;
Yet he that hath in anguish knelt
Is not forsaken by his God."
E. B.