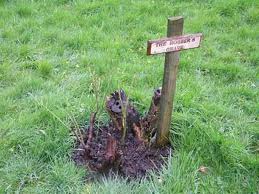 God Is Good.
Yes, dear children, God is good. Do you want
me to tell you why I say he is good? One
thing is because he has been so very good to
me. When I was less than a year old my
mother was taken from me by death.
Consumption
did its work quickly; but ere she died she gave
me to her aged mother. Her health being quite
poor, it brought a great burden of care upon her;
but well did she perform the task, and as far as I
can remember, every day my heart became more
closely knit with hers. She was ever so kind and
tender of me, and I thought her word was my
law, and I loved to obey her. How narrowly I
watched her. If I saw her suffering, it caused me
to suffer; and often did I tell her if she died, I
wanted to die also. Little did I think she could
be taken from me, but alas, lingering
consumption had fastened itself so firmly upon
her frail form that medical aid was of no avail.
I saw her failing health, and in every way that
I could save her a step, it was a joy to me.
Although young, I could do many things to
lighten her daily cares. How it cheered me to
hear her say, "My little girl can do nearly all my
washing for four of us in a family."I was then
about eleven years old. She lived till I was in
my fourteenth year.
As we were alone one day she said to me, "My
child, what will you do when your mother is
gone?" What could I answer! After a while I said,
"Oh mother, don't leave me; I could not live
without you; no one will love me as you do." She
said. "God will love you, my dear child." She
wept with me awhile and then said she had long
prayed that she might be spared till I was old
enough to take care of myself, and she believed
God had heard her prayers.
In a few days she was taken raising blood and
brought down quite low. 0 how tenderly I
watched over her; how I tried to make her
sufferings as light as possible. At length Spring
came, and the trees put on their foliage. I saw
that my mother grew weaker and weaker, and I
felt that she must die. 0 how fervently I plead
with my heavenly Father to spare her a little
longer, but if it was not his will, to take me, for
I thought I could not live without her.
One afternoon, the last of May, she seemed to
brighten up a little; my heart was filled with joy
as a gleam of hope sprang up within me, a hope
that perhaps she would be spared. She called me
to her bedside, told me to sit down, as she had
something to say to me. I seated myself by her
and looked at her a moment; what a change had
come over her! It pained my very heart. "Esther,"
said she, "I am going to leave you."Oh how
differeut her voice sounded; it thrilled my very
heart. I could not speak. She said again, "My
child, what will you do when I am gone? This
world looks dark and dreary for me to leave you
alone without a mother. But God is good; he will
never leave you if you love and obey him. Will
you ever try to trust in him? Will you daily pray
to him, that his care may be over you? Your
health is poor, but I leave you in the hands of my
kind friend, Jesus. Will you always remember my
advice to you?"
I put my arms around her neck and said, "Oh
mother, I will, I will! But mother, don't leave me;
for I don't love any one but you and God." My
heart was so bound up with hers, that I thought
no one else could share with her in my
affections.
That night we watched over her. As she lay quiet
and easy, she begged of me to go to bed. I did
so, but not to sleep; ah no, sleep was far from
me. I had lain but a short time when I heard my
father say, "I am afraid she is going." I ran to
her bedside; the death-rattle was in her throat.
She raised her eyes to me; I can never forget
that look. I knelt by her, took her hand and said,
"Oh, mother, do you know me?" "Yes," said she,
"it is Esther, my child." It was her last words;
she died holding my hand.
Dear children Did any of you ever stand by the
bedside of a dying mother ? If you have, you can
imagine my feelings at that time better than I
can describe them. How dreary every thing
seemed to me. I did not like to hear the birds
sing; I thought they only mocked at my grief. We
followed her to her grave. Every thing seemed
changed when we had buried her. It seemed as
though I never could return to the house again;
but some friends went back with us to comfort
us in our affliction. It was different with me from
most children of my age. My mother's health had
ever been poor, my own constitution feeble,
which kept me at home nearly all of the time.
I had never been away three days at a time
without her. Thus you see my whole being
seemed bound up in her. I had many kind friends,
but none could fill the place of that mother. And
now while I pen these lines my eyes are dimmed
with tears at the thought of her. And whenever I
see children that have a kind mother, feeble in
health, toiling and suffering from day to day to
rear them up to an age that they can be able to
take care of themselves, and treat her unkindly,
oh how it pains my heart, and I pray God to help
them to realize how lonely they would be
without her.
Dear children, those of you who have kind
parents, oh, be kind and obey them. If they chide
you for your faults, do not treat them unkindly.
Remember
the promise of God to obedient children:
"Thy days shall be long upon the land which the
Lord thy God giveth thee." That land will be
upon the New Earth. Let us all try to have a
dwelling-place there.
ESTHER P. WARREN