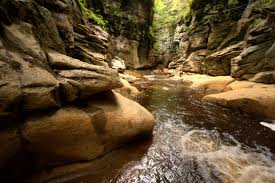 The Well That Never Dries Up
I was staying at a village near the sea-coast,
where the people had to bring all their water
from a well. At all hours of the day, but chiefly
before breakfast and before tea time, little feet,
often unshod, but very active, might be seen
passing along the narrow lane, with every kind
of pitcher, kettle, and can, to a fresh-water well.
"Is this well ever dry?" I inquired.
"Dry! Yes, sir, very often in hot weather.
"And if it dries up?"
"Why, then we go to the spring higher up the
best water of all."
"But if this spring higher up fails?"
"Why, sir, that spring never dries up never.
It is always the same, summer and winter."
I went to see this fountain which "never dries
up." The water was clear and sparkling, running
down from a high hill, and passing through a
gravelly bank, not with torrent leap and roar, but
with the steady flow and soft murmur of fullness
and freedom. It flowed down to the wayside. It
was within reach of every child's pitcher. Some
children were there, filling their different
vessels to the brim. It was enough for every
empty vessel. The small birds came down thither
to drink. The ewes and lambs had trodden down
a little path to its brink. The thirsty beasts of
burden, along the dusty road, knew the way as
I could see by their tracks to the spring that
"never dries up."
It reminded me of the water of life and salvation
flowing from the "Rock of Ages," and brought
within reach of all men by the gospel of Christ
Jesus. Every other brook may grow dry in the
days of trial and adversity; but this heavenly
spring never ceases to flow. "I will give unto him
that is athirst of the fountain of the water of life
freely."
Revelation 21:6.
Select