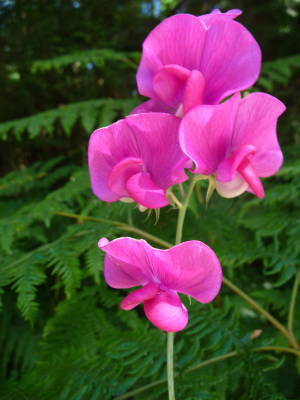 SO I ONLY HAVE A FLOWER TO GIVE.
'MOTHER,' asked little Phebe, 'have you nothing I can carry to poor Aunt Molly.' Phebe's mother was poor, and her closet was very scant that morning.
"'I wish I had, Phebe,' said she, 'Can you think of anything?' Phebe thought. 'I've only a flower,' said the little girl, 'I will take her a sweet pea.'
Phebe had a sweet pea which she had planted under her window, and as it grew and flowered, both mother and daughter loved and enjoyed it. Phebe picked one, and then ran down to a poor old sick woman, who for a whole year had lain in her bed, suffering great pain.
In the afternoon a lady called to see Aunt Molly. She saw a sweet pea in a cracked tumbler on a small stand by the poor woman's bed.
'That pretty flower a little girl brought me this morning, who said it was all she had to bring,' said Aunt Molly, with a smile; I'm sure it is worth a great deal to know I'm thought of; and as I look at it, it brings up the image of green fields and the flowers I used to pick when I was young; yes, and it makes me think what a wonderful God we have.
If this little flower is not beneath his making and his care, he won't overlook a poor creature like me.'
"Tears came into the lady's eyes; and she thought, If you've only a flower to give, give that. It is worth a great deal to the poor, the aged, the sick, to know that they are thought of."
Will not the little children treasure up the lesson herein taught? And if you have only a geranium leaf, now in midwinter, to give, remember that its fragrance may prove a blessing to some poor invalid.
MRS. H. T. H. SANBORN.