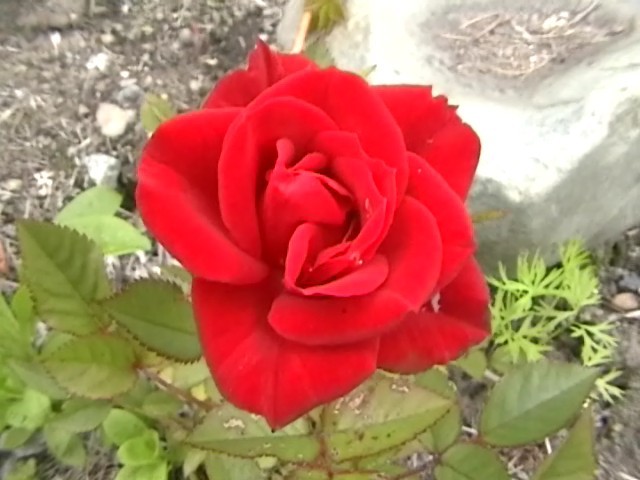 For The Little Ones.
I WONDER how many there are of the little
folks who like this part of the paper best.
I think there is quite a number who always
ask the one who reads to them to turn to this
"Corner" and read it first. Now, if you will
make room, I will take a seat with you, and
tell you something about my rose-bush; for
I am sure you all love flowers, and love to
hear about them.
A little boy hearing me say that I wished
to have a monthly rose-bush, brought me a
tiny slip. It was so late in the fall that some
told me it would be useless to do anything
with it; for it certainly could not live through
the cold winter. But I kept it in a warm
place, and gave it plenty of soft water. Instead
of dying, as we feared it might, it grew
nicely all winter.
When the snow was on the ground, and the
wind was howling out-doors, still the little
green leaves kept unfolding, one after another,
till it appeared quite like a bush. As the sun
rose higher in the sky, and the days grew
warmer, some little buds appeared. One of
them, the largest, I have been watching
closely until this morning it has blossomed
into a bright red rose. I placed it in the
open window to get the fresh air and sunshine.
It had been there but a few moments
when a pretty little brown bird came and
perched himself on the grape-vine close by,
and sung me as sweet a bird song as I ever
heard. He looked toward the window, and
seemed to say, in his way, "I thank you, Miss
Jennie, for giving me the first sight of your
beautiful rose." And it may be he would
gladly have built his nest in its branches if he
could get a chance; but he didn't say so.
I do not write this merely to tell you about
my rose, but to speak also of the thoughts it
has suggested to my mind. I think by watching
the progress of this little bush, I have
been drawn nearer to the Lord. I behold His
great wisdom in painting the stem brown, the
leaves green, and the flower red. The stem
and leaves have no fragrance; but when the
rich blossom opened, a sweet odor was sent
out from it. Even now while I am writing,
three more buds have unfolded their rich
leaves to the light.
There are many children who are poor, and
perhaps not very attractive to the gay and
fashionable world around them. They are
neglected by many who think they will never
amount to anything. But if they give their
hearts to the Lord, they will be beautiful in
his sight. He can make love and all the
Christian graces grow in their hearts. They
can each day be growing up into Christ, and
forming characters for Heaven, just as the little
bush became larger and prettier. And
when Christ comes, as the rose-buds that
bursted into beautiful blossoms by exposure
to the rays of the warm sun, so will these
children be made immortal, and become jewels
in the kingdom of God. And what the
Lord calls jewels must be very beautiful indeed.
Children, do you love flowers? Get some
that you can call your own, water them and
care for them, and you will be surprised to
see how wonderfully the Lord can make them
grow.
ED.
FANNY'S GARDEN.
"I LOVE the roses fragrant;
For they are fair and sweet;
I love the modest daisy
That blossoms at my feet;
I love the stately lily,
It is so pure and white;
I love the purple pansy,
So innocent and bright."
Thus Fanny said, and planted
These flowers in the spring;
It was the time for gardens
When birds were on the wing.
But, ah! How long she waited
Before the blossoms grew,
They needed so much sunshine,
And rain, and air, and dew!
Her mother saw her watching,
And said to her one day:
"No wonder you are weary
With such a long delay.
I, too, have a fair garden
Where I must work and wait;
I sometimes fear the blossoms
Will come for rue too late.
"I planted truth and virtue,
And faith, and hope, and love;
I taught the little tendrils
The way to climb above.
They are so slow in growing,
It makes the tear-drops start;
That garden fair, my darling,
Is little Fanny's heart!"
—The Bright Side