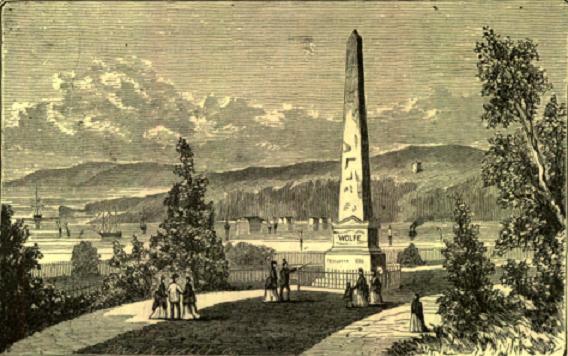 WOLFE'S MONUMENT.
ON the plains of Abraham, in the ancient city of Quebec, stands the monument erected to the memory of General Wolfe, whose bravery and devotion to the cause of his country have been the admiration of all students of history, as they have read the account of the gallant siege of Quebec under Wolfe, and its equally gallant defense, under Montcalm, Sept. 13, 1759. The monument commemorates the bravery of both officers, who fell at nearly the same moment, in deadly conflict with each other, both fighting for what they believed to be the cause of right
The fortifications of Quebec were considered well-nigh impregnable, and up to the time of the siege above referred to, were held by the French in fancied security. But General Wolfe, in command of the English forces, conceived the project of scaling the cliffs from the river's bank, and though finding but little sympathy among his officers in the bold undertaking, he successfully carried it out under cover of darkness, and the result is known to history.
One feature of this battle is worthy of emulation by the Christian soldier.
It is recorded of the brave General Wolfe that he pressed forward in the thickest of the fight, and received a mortal wound. He was carried to the rear, and while his life-blood was fast ebbing away, he heard the cry, "They run! They run!" On learning that his foes were retreating, he exclaimed, "God be praised; I die happy!"
Although he was not personally to enjoy the results of his victory, he died in the happy consciousness that his cause was to triumph, even though its success was sealed with his blood.
The conflict between right and wrong has been going on for six thousand years. The final victory is yet a thing of the future; but the gallant soldiers of the cross, have been falling in defense of the right, all the way along. Even though apparently defeated, they have been allowed a glimpse of the prospective victory, and, like Wolfe, have been able to exclaim, "I die happy!"
It is given the Christian soldier to know the final result of the warfare in which he is engaged. As the great apostle has stated it; "I therefore so run, not as uncertainly; so fight I, not as one that beateth the air."
Though wrong may seem to triumph, and the banners of right be trailed in the dust, it is only a temporary defeat.
"Truth crushed to earth will rise again; the eternal years of God are hers." Though we may fall at our post, let us be happy in the thought that it is the post of duty, and that faithfulness to duty has its sure reward.
W. C. G.
AFTER you have been sick,
you know the value of health;
after you have had sorrow,
you can appreciate joy;
when you are tired,
then rest is truly sweet.