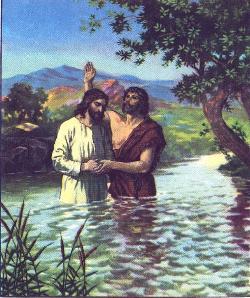 THE BAPTISM
AND TEMPTATIONS OF CHRIST.
WHILE John was baptizing in the river Jordan, Jesus came from Nazareth in Galilee, and asked to be baptized. "But John forbade him, saying, I have need to be baptized of thee, and comest thou to me?" But Jesus said, "Suffer it to be so now, for thus it becometh us to fulfill all righteousness. Then he suffered him. And Jesus, when he was baptized, went up straightway out of the water; and, lo, the heavens were opened unto him, and he saw the Spirit of God descending like a dove, and lighting upon him. And, lo, a voice from Heaven, saying, This is my beloved Son, in whom I am well pleased."
It seems that the Lord had told John beforehand that he might know the Messiah by this sign, for John says, "He that sent me to baptize with water, the same said unto me, Upon whom thou shalt see the Spirit descending, and remaining on him, the same is he which baptizeth with the Holy Ghost." Of the fulfillment of this sign he says, "I saw the Spirit descending from heaven like a dove, and it abode upon him.
. . . And I saw and bare record that this is the Son of God. "Thus Jesus received not only the baptism of water, but the baptism of the Holy Ghost, the anointing which marked him as the Messiah, the anointed one. But the vast multitude of people gathered at the Jordan were allowed not only to see this unmistakable token, but to hear a voice from Heaven declaring Jesus to be the Son of God.
"And Jesus, being full of the Holy Ghost, returned from Jordan, and was led by the Spirit into the wilderness, being forty days tempted of the devil. And in those days he did eat nothing; and when they were ended, he afterward hungered. And the devil said unto him, If thou be the Son of God, command this stone that it be made bread. And Jesus answered him, saying, It is written, That man shall not live by bread alone, but by every word of God. And the devil, taking him up into a high mountain, showed unto him all the kingdoms of the world in a moment of time. And the devil said unto him, All this power will I give thee, and the glory of them; for that is delivered unto me, and to whomsoever I will, I give it. If thou, therefore, wilt worship me, all shall be thine.
And Jesus answered and said unto him, Get thee behind me, Satan; for it is written, Thou shalt worship the Lord thy God, and him only shalt thou serve. And he brought him to Jerusalem, and set him on a pinnacle of the temple, and said unto him, If thou be the Son of God, cast thyself down from hence; for it is written, He shall give his angels charge over thee, to keep thee; and in their hands they shall bear thee up, lest at any time thou dash thy foot against a stone. And Jesus answering, said unto him, It is said, Thou shalt not tempt the Lord thy God."
It seems that the Saviour was tempted on those points where men are most frequently overcome, appetite, love of dominion, and presumption. If he had used miraculous power for his own relief or protection, there could have been left on record no perfect example, showing how man may resist the temptations of the evil one under the most trying circumstances; and if he had in any way yielded to Satan, the plan of salvation would have been frustrated. But he stood the test just as men may do, by faith and prayer; and when he had been sufficiently tried, we read that the devil departed, and "angels ministered unto him."
It appears that Jesus, after his temptation, returned to the Jordan where John was still baptizing; and when John saw him coming, he said, "Behold the Lamb of God, which taketh away the sin of the world! "The next day while standing with two of his disciples he repeated the same words; whereupon the two disciples that were with him followed Jesus. When Jesus saw them following, he said, "What seek ye!
They said unto him, Rabbi, where dwellest thou? He saith unto them, Come and see. . . One of the two, which heard John speak, and followed him, was Andrew, Simon Peter's brother. He first findeth his own brother Simon, and saith unto him, We have found the Messias, which is, being interpreted, the Christ.
And he brought him to Jesus. And when Jesus beheld him, he said, Thou art Simon, the son of Jona; thou shalt be called Cephas, which is by interpretation, A stone."