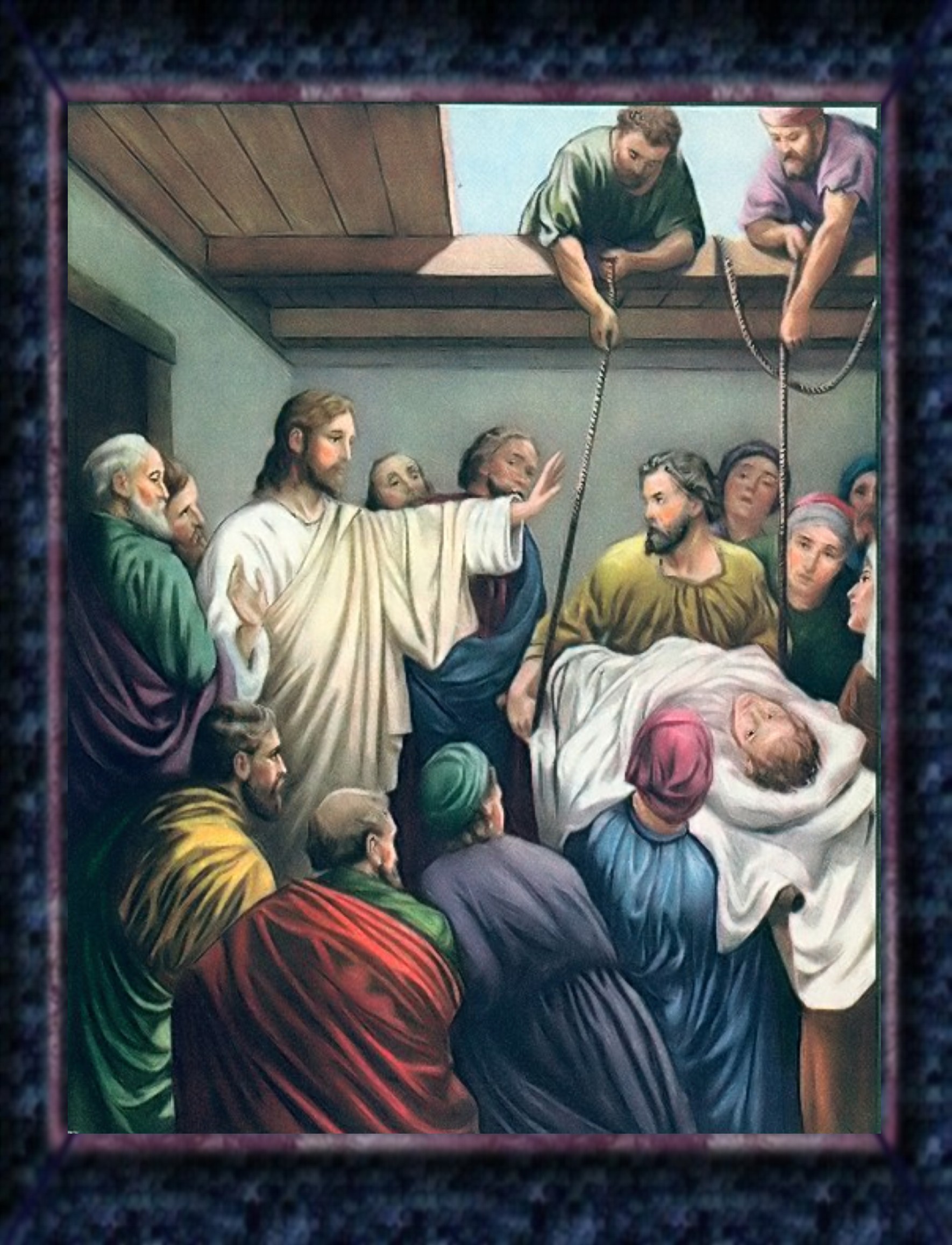 HEALING THE PARALYTIC,
AND CALLING MATTHEW.
AFTER Jesus had gone over Galilee visiting all the principal places, he returned to Capernaum. As soon as the people knew that he had returned, they crowded into the house where he was; and when they had filled the house till no more could get in, they gathered around it in great numbers, hoping to hear some precious words, or to see some wonderful miracle performed.
Among others there came four men bearing one who was sick of the palsy but they could not come nigh the Saviour because of the crowd, so they went up on the house-top and took up a part of the roof. Then they let the man down on his bed through the roof, and when Jesus saw their faith, he said, "Man, thy sins are forgiven thee." The scribes and the Pharisees who were present began to reason among them-selves, saying, "Who is this, which speaketh blasphemies? Who can forgive sins but God alone?" But Jesus knew their thoughts, and said, "What reason ye in your hearts? Whether is easier, to say, Thy sins be forgiven thee, or to say, Rise up and walk? But that ye may know that the Son of man hath power upon earth to forgive sins (he said unto the sick of the palsy), I say unto thee, Arise, and take up thy couch, and go unto thine house. And immediately he rose up before them, and took up that whereon he lay, and departed to his own house, glorifying God." When the people saw this, they were all amazed, and glorified God; yet they were filled with fear, and said, "We have seen strange things today."
After these things, Jesus went forth, and as he was going down to the sea, he saw a publican named Levi, sitting at the receipt of custom; and he said unto him, "Follow me." Then Levi, leaving his business, rose up at once and followed Jesus. A publican was a man who gathered taxes for the Roman government, and Levi, who was sometimes called Matthew, was a Jew, employed by the Romans to receive taxes in Capernaum. Now the Jews did not like to pay taxes to the Romans, and so did not like the publicans very well, especially since they sometimes gathered more taxes than the government required. But a Jew who would consent to collect taxes for the Romans was despised above all others. So Levi must have been greatly surprised when the Saviour called him. As one means of showing his gratitude, he made a great feast for Jesus and his disciples. "And there was a great company of publicans and of others that sat down with them. But their scribes and Pharisees murmured against his disciples, saying, Why do ye eat and drink with publicans and sinners?
And Jesus answering said unto them, They that are whole need not a physician, but they that are sick. I came not to call the righteous, but sinners to repentance."