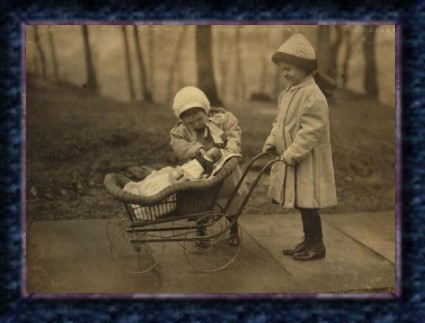 "IT'S OURS."
"GIVE me the doll's carriage, it's mine," said Alice.
"Let's play it's ours. I want to ride my doll in it; you took your doll in it. Can't we play it's ours?" said Eva, who had come to spend the afternoon with little Alice.
"No, no, it's mine, I want to take my doll to ride again," said Alice, as she put Miss Dolly into the little carriage, and prepared to roll it up and down the hall.
Eva sat quietly looking on. Presently a big tear stole down her cheek, then another and another. She felt so hurt at Alice for treating her so. Putting on her hat she rose to go. Alice was brought to a sense of what she had done.
"Eva, don't cry, please don't cry; you may ride your doll in my carriage, indeed you may."
"I'd rather go home. It isn't fun when it's yours, it wouldn't be if it was mine; we ought to play it's ours," said Eva, and she was right.