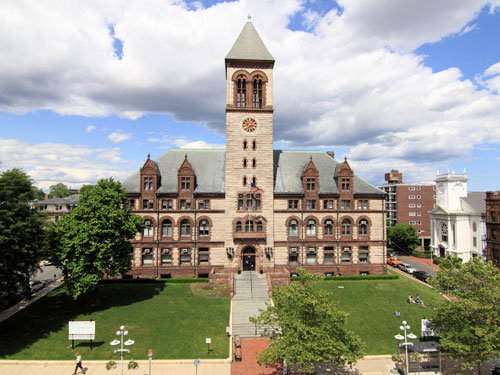 INCIDENTS IN THE EARLY LIFE
OF S. V. S. WILDER.
Sailing up the Columbia River to attend a camp-meeting at Milton, Oregon, a few weeks since, we became much interested in reading the life of this great and good man, the first, and for twenty-five years, the only, president of the American Tract Society.
We now propose to give the readers a few of the facts and incidents in his early life, hoping that some may be benefited by his example. Mr. Wilder was born in Lancaster, Mass., just one hundred years ago the twentieth of last month. He was blessed with having upright, God-fearing parents, who ever sought to instill into his mind principles of strict honesty and integrity. His great-grandmother lived in Holland at the time when the Pilgrim fathers visited that country, previous to their sailing for Plymouth Rock in 1620. During their stay there she imbibed largely of their religious principles, and soon after, accompanied by her youngest daughter, followed them across the water to find "freedom to worship God." Just before her death, this daughter, Mr. Wilder's grandmother, obtained permission of his parents to educate him for the ministry.
He was at once placed in a grammar school, where he studied with the utmost diligence until the age of thirteen, when his father on his death-bed expressed the wish that he would enter mercantile life, in order to give more support to the family.
At the age of fourteen he was placed in a store at Gardner, Mass., about fifty miles from Boston. But this not proving to be a very good place, at the end of two years he engaged some one to take his place and he returned home.
While at Gardner, he had often been sent to Boston in charge of wagons of produce, which he sold and invested in goods.
Here he became acquainted with several merchants who now offered him employment. He partially arranged to go with one firm at a salary of $150 a year, but on returning home, his mother objected so strongly that, in compliance with her wishes, but much against his own will, he went into a store of one Mr. Henley, in Charlestown, at a salary of $50 a year. This, of course, was a great damper on his naturally ambitious spirit, but while here he formed the acquaintance of Dr. Morse, D. D., who gave him the privilege of coming to his house and using his library, and who also gave him private instructions every Saturday evening. *" Thus," says Mr. Wilder, " in consequence of obeying my mother, I was brought under the notice of Dr. Morse, near whose house was Madame Henley's store; for Mr. Henley dying while I was there, his wife carried on the business, and I became her head clerk." Through Dr. Morse, Mr. Wilder became acquainted with a French gentleman, and through him, a few years later, when sent to France to buy goods on commission, he received special protection from the French government. This protection enabled him to form under his own roof various societies for the distribution of tracts and the Bible.
All his success in life, Mr. Wilder attributes to his "implicit obedience to the wishes and entreaties" of his mother. Let all young men and women having pious parents profit by his example. As in this case and in that of Washington, obedience to a mother may be the hinge upon which your entire future course may turn.
During the latter part of Mr. Wilder's clerkship with Madame Henley, an interesting incident occurred which we will here give as nearly in his own words as space will allow:,
Being engaged in winding up the concerns of my late employers, preparatory to commencing business on my own account, an old country customer called one morning, and after making a selection of several articles which we still had on hand, and wishing, in order to complete his assortment, half a bale of Russia duck, which we had not, I told him that he might calculate upon having it at the time he was to call for the other articles, which was at one o'clock. I soon left for Boston, in order to obtain the article wanted. Having purchased it, and not meeting with the truck-man who usually transported merchandise over to Charlestown at noon, I engaged a young man with a wheelbarrow to take over the bale of duck. After accomplishing my other business, I started home. On reaching the street leading to Charlestown bridge, I found the young man sitting upon the wheelbarrow, quite overpowered by the heat of the day.
Having promised the goods at one o'clock, and it being already half-past twelve, I immediately seized the wheelbarrow, dressed as I was in Nankeen small-clothes, with silk stockings, white Marseilles vest, a striped gingham coat, and a white fur hat.
Thus I was propelling along the wheelbarrow when overtaken by Mr. Codman on horseback.
"What," said he, "Mr. Wilder turned truck-man?" "Why," replied I, "I have promised these goods to be ready for a customer at one o'clock at our store, and am determined not to disappoint him." "(good! good!" said Mr. Codman, and rode over the bridge and called at his sister-in-law's, at our store. Said he, "I witnessed a scene just now, in coming over the bridge, which afforded me much satisfaction, being nothing less than your head clerk with a wheelbarrow loaded with a heavy package, which it seems he had promised to a customer of yours at one o'clock, and it now wants but twenty minutes. I understand," said he, "that that young man is about commencing business for himself. You may say to him on his arrival, that such is my approval of the energy of character displayed in not hesitating to wheel the barrow rather than disappoint a customer and break his own word, that when he commences business my name is in his service for thirty thousand dollars, so long as he does not indorse for others."
On reaching the store, I found the customer there with his other goods packed, and only waiting for the duck, which arrived just in time to be loaded on.
A few months after, I commenced business in Boston on my own account, and although I never availed myself of the offer of Mr. Codman, yet during the first year of my business he made several consignments of goods to me which I disposed of on commission, and which resulted in the aggregate in over ten thousand dollars.
Let the young who are now approaching the period when they will be called to enter upon the stern realities of life, profit by this example, and make the prayer of David their own: "Let integrity and uprightness preserve me." Let them ever have courage to do what is right and necessary; and let them only "be ashamed who transgress without cause."
M. K. W.
* Dr. Morse was the father of American geography. In 1784 he published a small school geography, the first book of the kind ever published on the American continent. He was also the father of Dr. Samuel F. B. Morse, the inventor of the electric telegraph.
MR. WILDER IN EUROPE.
IN1803 Mr. Wilder concluded an arrangement by which he was sent to Europe as an agent for one Mr. Gray, a wealthy Boston merchant.
He declined, even at his advanced age, to settle the matter without first consulting with his "honored mother," but having obtained her consent, he soon set sail on the old ship Elizabeth. The conveniences for traveling were not such then as now. "Even the cabin," says Wilder in describing the passage, "was so filled with freight, with bags of pepper and coffee, that we could not reach our berths without crawling on our hands and knees."
In the course of twenty years, Mr. Wilder crossed the ocean sixteen times. No mere pleasure trips these in those days; no mere crossings of a gigantic ferry, which they have now become; but long, tedious, patience-killing voyages were they, of from forty to eighty days' duration, fraught with danger from storm and iceberg.
Arriving in Europe, Mr. Wilder proceeded to invest the funds at his disposal in such manufactures as he found in various places, finally arriving in Paris on the very day and hour on which Napoleon was proclaimed emperor on twelve squares of the city. Of this, he says, "The streets of the city ran wine from morning till night. A distribution of thousands of legs of mutton, roast fowls, and loaves of bread, was made, enough to satisfy the cravings of 800,000 people."
A flourishing business was soon built up in Europe by Mr. Wilder, and at the end of the first year he found himself giving regular employment to upward of twelve hundred persons. His business soon called him abroad. During one of his visits to London, he engaged to meet a man one evening near St. Paul's; but as the appointed hour passed and no one appeared, he entered a small church near by, when he found himself in a missionary meeting* a scene which deeply affected his heart.
As he occupied a retired seat, the collection plate did not reach him, but he found means to drop into it a ten-pound note.
This led the friends to seek his acquaintance, and on being asked if tracts could not be circulated in Paris, he at once directed £10 worth to be sent to his address in that city. When the enormous box arrived at the custom-house, it was seized as contraband, and he was summoned to appear for his crime. He stated that there was nothing in them political or revolutionary, and presented a copy to each one present. He thus found himself somewhat suddenly enlisted in the tract, Bible, and missionary work. From that time on he never lost his interest in this great work. A circumstance occurred near the close of his life in Europe, which shows his characteristic zeal in this work:
Having for some years been accustomed to receive a New-Year's visit from some hundreds of the different workmen to whom I gave employment, I resolved on one of these occasions, after the establishment of our Bible society in Paris, to ascertain how far, in the estimation of some dozen packers at the custom-house, the sacred volume would be appreciated in preference to money. I therefore prepared a dozen or more Bibles by placing inside of the outer wrapper a gold-piece of forty francs, eight dollars.
After these custom-house packers had entered and wished me a Happy New-Year, I said to them, "My friends, you have had during the past year an arduous task, packing so many more cases than were ever before sent through the custom-house in any one year, and I wish now to present you with something more valuable than the ordinary five-franc piece you have usually received;" and, taking a Bible in one hand and a five-franc piece in the other, I said, "Now, my friends, I offer each of you one of these blessed books, or a five-franc piece, whichever you prefer." An elderly gentleman standing near replied that he presumed the book was all that I represented it to be, but as it would not put bread into the mouths of his children, he preferred the five-franc piece.
Thus I proceeded with the others, extolling the Holy Scriptures, and the advantages those would derive who had faith in my declarations. But from first to last of the eleven men, all made choice of the five-franc piece. A lad some fourteen years of age still remained. It was his department to mark the initials and numbers on the outside of the cases. He approached and said that as he thought it would give his mother and sisters great pleasure to hear him read such an interesting book as I had represented this to be, he would take the book, which I had the satisfaction of handing him in the presence of all the others. So eager was he to know the contents of the volume, that he at once took off the cover, when out fell to the floor the forty-franc gold-piece therein deposited.
Judge of the consternation of the others, who saw at once the mistake they had made in giving the preference to the money rather than the Bible. They asked if all the other books contained the same treasure. I answered, Yes, and opened several, displaying in each the golden piece in question. This caused them, Frenchman-like, to smite their breasts, stamp on the floor, and, retiring, to exclaim that they would never again be guilty of similar folly.
Thus all through Mr. Wilder's Christian life was he seeking in some way to spread the knowledge of Christ and the Bible.
And just before his death he wrote these touching words to his children: "I have seen all that this world calls great and glorious. I have seen human nature in its most attractive forms, and in its lowest degradation. I know what it is to tread the courts of emperors, kings, and princes. I know what it is to tread the courts of a prison as well as of a palace. I know what it is 'to abound,' and what it is 'to be abased,' and I have come to this solemn conviction, that there is but one thing in this transitory world worth living for, and that is to know aright Him who is the truth, the way, and the life, and to rely only on his blood and righteousness for salvation."
M. K. W.
THROW life into a method,
that every hour may bring its employment,
and every employment have its hour.