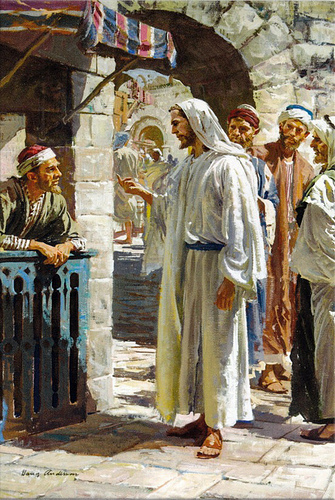 THE CALLING OF MATTHEW.
AGAIN Jesus went forth by the sea, and taught the people that resorted to him. Now there was at Capernaum a Roman tax-gatherer by the name of Matthew Levi, and as Jesus passed by where this man sat receiving tribute, he said unto him, "Follow me." "And he left all, rose up, and followed him, "are the simple words of the Sacred Record, implying that his faith was such that he obeyed the Master without hesitation. Matthew was greatly surprised, no doubt, at being called to follow Jesus; for the Jews were so unwilling to pay tribute to the Romans, that they despised and hated the publicans, who were employed to collect the taxes. This odium was in part deserved; for many of the publicans extorted from the people more than the government required.
Matthew was so anxious to show his gratitude that he made a great feast for Jesus and his disciples; and there were present a great company of publicans and others, who sat down to the feast. Now when the Pharisees who had followed Jesus saw this, they said unto his disciples, 'Why eateth your Master with publicans and sinners? But when he heard that, he said unto them, They that be whole need not a physician, but they that are sick. But go ye and learn what that meaneth, I will have mercy and not sacrifice; for I am not come to call the righteous, but sinners to repentance. Then came to him the disciples of John, saying, Why do we and the Pharisees fast oft, but thy disciples fast not?
And Jesus said unto them, Can the children of the bride-chamber mourn as long as the bridegroom is with them? But the days will come, when the bridegroom shall be taken from them, and then shall they fast. "