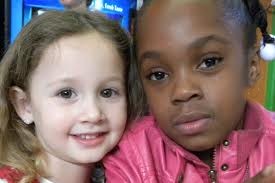 The Black Lamb In The Fold
NELLIE HAVEN'S mother had long been sick.
When the cold North winds began to blow, they
left their pleasant home and went to the far
South, hoping the balmy breezes might bring
the roses to her pale cheeks. The large hotel
where they lived was full of people, many of
whom were sick and sorrowful; but there was
not one child for a playmate. As Nellie could
not be all the time with her mother, she grew
very lonely. O how she longed to see her dear
brothers at home.
One day, she saw a funny little black girl lying
in the hot sand, and singing merrily to herself.
This was Patsy, whose duty it was to scour
all the knives. Nellie told her to ask if she
might come and play with her dolls. Patsy
looked amazed as she sprung from her warm
resting-place, and laughingly said: "Missis will
be right glad to let me please the little white
lady wid a sick modder!" When her work was
done, she laid aside her tow frock, and made
herself as neat as possible, and with a face
radiant with delight, she tapped at the parlor
door. Nellie allowed her to hold her finest doll,
which she called "Queen Victoria," and which
ever after blundering little Patsy called "Queen
Toby."
"You'se a mighty good little lady," she said,
"last Summer dar was a pert little Miss here
from your place, up dar, and she cry a heap, she
so feared o' me! An' after she find I no hurt
her, she wouldn't touch me, feared de black
would come off! Who larn you be so kind to
black chillen?"
"My mother, Patsy; Have you got a mother?"
replied little Nellie.
"No, Misse; my mammy she done dead four
year ago; and daddy somethin' corned o' him,
I neber knowed what. Who telled your modder
be good to black folks?"
"Jesus taught her; and she teaches me all his
lessons," said the artless Nellie.
"Jesus! Why, my mammy knowed him!
When I lib wid her and daddy in our cabin,
she used to tell me heaps o' words to say to him.
Mammy's Missus she loved him too; and when
mammy got sick, she come an' read de good
~Book, and talk to Jesus in our cabin. But
quick as one die, den de oder die too; an' I
heerd dey both gone to lib wid him togedder,
I hain't heerd nothin 'bout him since I come to
lib wid dese people. Do you 'spect it's my
mammy's Jesus dat your mudder knows? I don't
b'l'eve he's in Florida now."
The tears started to Nellie's eyes. "Yes,
Patsy," she said, "there is but one Jesus; and
some day when mamma is better, she will tell
you all about him, and teach you some of his
sweet lessons."
So gentle and winning was the poor child, that
when Spring came with health on its wings, Mrs.
Haven resolved, as a thank-offering to Him who
had spared her to shelter her own little fold, to
gather the black lamb among them. With the
consent of the family with whom she lived, Patsy
came to the North with them. She has now
learned that Jesus lives in Florida, as
everywhere else; and often does she "talk," as in
the days of her infancy, "to mammy's Jesus."
Now, dear children, you see how much was done
through the kindness of one little girl. Had
Nellie, when lonely, tossed her head, saying, "I
won't play with a black child, nor let her touch
my playthings!" where would Patsy have been
to-day? One kind word to the despised may
lead to great results; therefore never turn away
scornfully from any of God's creatures.
Young Reaper.