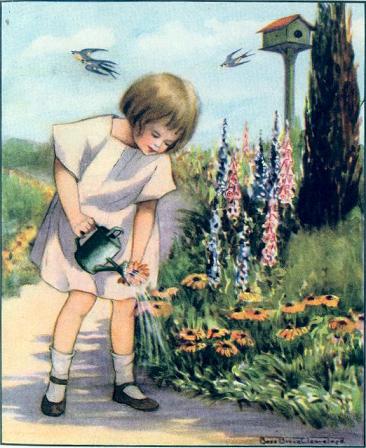 Be Punctual.
DEAR READER: Did you ever consider
what there is to be gained by being punctual?
It is written, "Whatsoever thy hand
findeth to do, do it with thy might." "Redeeming
the time because the days are evil."
Procrastination is a thief which steals our
time away. But the one who hoards up golden
moments grows rich and powerful. It is
the punctual boy who is prompt at school,
and ready with his lessons, in season with his
work, and on hand to execute everything
given him to do. Punctuality makes the
enterprising man who is faithful in his business
relations. A punctual boy is respected in the
community and relied upon for his integrity. It
is the punctual boy who never fails to fulfill
his engagements at the appointed time, and
who always has time enough to be cheerful
and mindful of the wants of others.
Try it, reader. Let punctuality characterize
all your acts. Improve the present moment.
If you have anything to do, do it just
at the right time, then your lives will be
systematic, you will have time enough for "all"
things without hurrying; you will be better
natured, and will escape a multitude of those
vexations, which dilatory people encounter.
If you give your heart to Jesus, he will help
you prepare for the world above. Thus you
will be happy here, and in the world to come
have everlasting life.
A. H. CLYMER.
Bluffton, Ohio.
Sweet Intimacy with Jesus.
IT is recorded of Bengel that he was much
given to intercessory prayer, and that he had
power with God, and prevailed. One who
was anxious to find out his secret, watched him,
in observed, in his hours of retirement. "Now,"
said he, "I shall hear Bengel pray." The
aged saint sat long before his open Bible, and
while perusing its sacred pages, and while
comparing scripture with scripture, the hour of
midnight sounded. Nature seemed at length
exhausted. He folded his arms over the open
word, and looking up, gave utterance to these
words: "Lord Jesus, thou knowest me; we
are on the same old terms." A few moments
more and Bengel's weary frame was resting in
a sweet slumber.
Select
THE rainbow cannot appear without a cloud;
but while the drops yet fall, the light shines
in the darkness, and shows us every variety of
color. Hereafter all darkness will disappear
in light, and yet there will be a rainbow round
about the throne fit emblem of the gospel,
which shone in our vale of tears.
YI