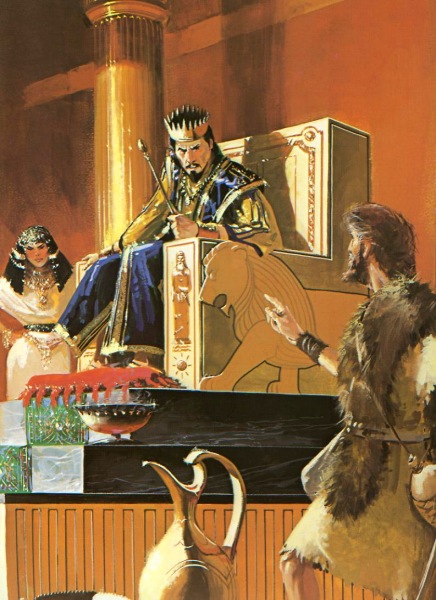 AHAB'S WICKED REIGN.
AFTER this, Jeroboam went on doing evil, and serving his gods, just as before.
Then Jeroboam's son Abijah was taken sick, and Jeroboam's wife disguised herself, and went to the prophet Ahijah to ask him if the child would live. The prophet told her that her son would die; and that because Jeroboam had been so wicked, all his other children should be destroyed; and that all of them who died in the city the dogs should eat, while all who died in the field should be devoured by the fowls of the air.
After the death of Jeroboam, his son Nadab reigned in his place two years; when he was killed by Baasha, who took the kingdom, and reigned twenty-four years. Baasha destroyed all Jeroboam's family, as the prophet had said.
But he did evil, and worshiped idols; and when his son had reigned two years, Zimri, a captain in his army, killed him, and took the throne.
Then Zimri destroyed all the family of Baasha, just as Baasha had destroyed all the family of Jeroboam. But Zimri reigned only seven days; for Omri, the captain of the host, came up against him with an army; and when Zimri saw that he would be taken, he set fire to the palace, and died in the flames.
Omri built the city of Samaria. After reigning about twelve years, he died; and Ahab, his son, reigned in his stead. Ahab was a very wicked king. He did worse than any who had lived before him; for he not only worshiped the calves which Jeroboam had made, but he built a house for Baal in Samaria, and set up an altar for Baal, and worshiped him. He also made a grove for the worship of idols, and did more to provoke the anger of the Lord than all the kings of Israel, which were before him.
Then Elijah the prophet said unto Ahab, "As the Lord God of Israel liveth, before whom I stand, there shall not be dew nor rain these years, but according to my word." After Elijah had given this message to Ahab, the Lord told him to go and hide himself by the brook Cherith; and when he had done so, the ravens brought him bread and flesh in the morning, and bread and flesh in the evening, and he drank of the brook. But as there was no rain, the brook dried up. Then the Lord told him to go to Zarephath, a city of Sidon, where he would be fed by a woman who was a widow.