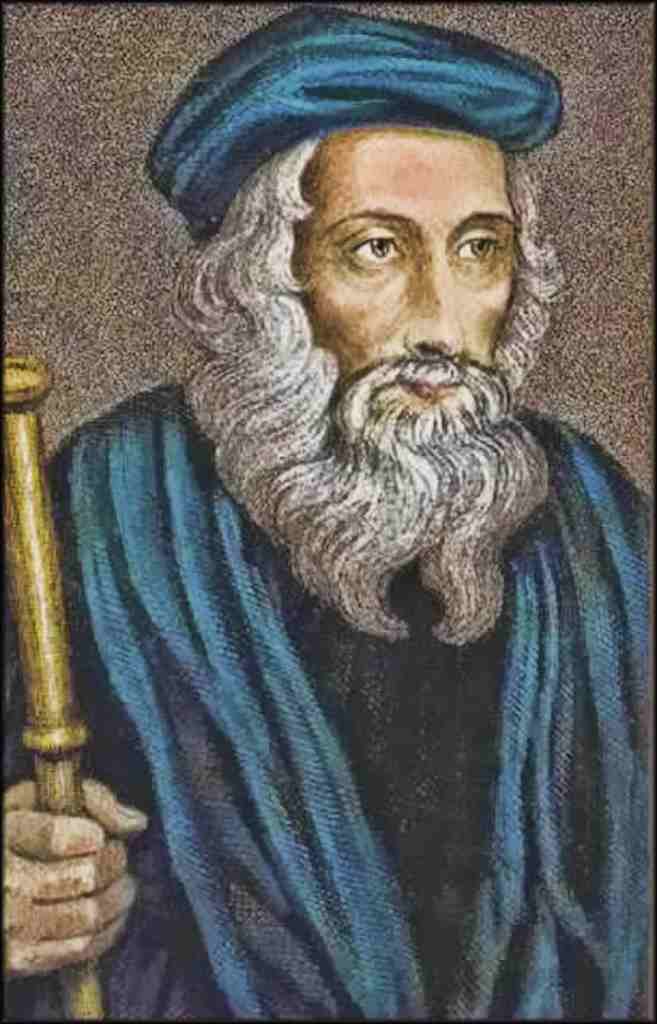 WYCLIFFE AND HIS CHURCH AT
LUTTERWORTH.
JOHN WYCLIFFE was born in 1324, in Yorkshire, England. He has been well called the "Rising Sun of the Reformation," for certainly he was the greatest of all the reformers before Luther. He became a student at Queen's college, Oxford, in the year 1340, being about sixteen years of age. Very early in his ministry he became famous for his learning, piety, and zeal.
In 1348, a terrible pestilence, called the "black death," appeared, which greatly stirred the heart of young Wycliffe with thoughts of death and judgment, and it is said that he spent days and nights calling upon God to show him the path he ought to follow. He studied the Bible, and found his way marked out in it. But the word of God was kept from the people by the church, and Wycliffe now began to demand that it should be given them. This caused trouble at once, for the Romish church requires unquestioning obedience, and will not allow her children to read the Bible. But Wycliffe was not terrified, he had found the truth, and he was not afraid to make it known. From this time on, he was not allowed to speak in peace.
In 1374, he was presented, by the king with the rectory of Lutterworth, in Leicestershire. About this time, he began to speak out his mind boldly against papal doctrines and doings, and he styled the pope "Antichrist." This enraged the pope, who issued several bulls against him, summoning him to London; but being acquitted, he returned to Lutterworth.
He now labored earnestly to get the word of God before the people; and in 1380, just five hundred years ago, his translation of the New Testament was completed, the Old Testament being finished two years later. This was a great event.
All classes were eager to see and read this new book, and Wycliffe had a great number of persons who went from village to village, and from town to town, bearing copies of part of them. He also labored with great zeal in the pulpit, preaching not only on Sundays, but on week-days.
He had a paralytic stroke, which left him in ill-health, yet still he worked on; but on the 29th of December, 1384, as he was in his church at Lutterworth, in the midst of his flock, he fell down, again stricken by paralysis. He was carried home by loving friends, and, after lingering two days, died.
After his death, so great was the hate of the Romanists, the council of Constance condemned all his writings, and decreed that his body should be exhumed and burned, which sentence was carried into effect. Wycliffe was a great man, and who will say that he did not accomplish a great work.
V. A. M.