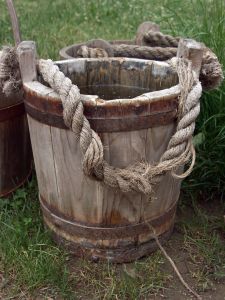 THE DIFFERENCE.
"WILLIE, why were you gone so long for water?" asked the teacher of a little boy. "We spilled it, and had to go back and fill the bucket again," was the prompt reply; but the bright, noble face was a shade less bright, less noble than usual, and the eyes dropped beneath the teacher's gaze, as if there was something that he wished to conceal.
The teacher crossed the room and stood by one who had been with Willie. "Freddy, were you not gone for the water longer than was necessary?"
For an instant Freddie's eyes were fixed on the floor, and his face wore a troubled look. But it was only for an instant he looked frankly up to his teacher's face.
"Yes, ma'am," he bravely answered;
"we met little Harry Braden and stopped to play with him, and then we spilled the water and had to go back."
Little friends, what was the difference between these two boys? Neither of them told anything that was not strictly true. Which one of them do you think the teacher trusted more fully after that? And which was the happier of the two?
THE DIFFERENCE OF TWO GIRLS
As I was walking out one day, I saw two little girls drawing a baby carriage along the sidewalk and busily chatting together. I watched them closely for to tell the truth, I have a liking for little girls who appear well. These were neatly dressed and of about the same age, and at first I could see little difference between them.
By-and-by they came to a street crossing. When they were about half way across the walk, a team came dashing along at a furious rate. One of the little girls saw it, and crying "Hurry!" she ran out of harm's way herself, leaving the other in the same danger, with the baby carriage to draw. The little girl tugged away at it, and was soon across the street where, she was rejoined by her frightened and cowardly little companion.
Now I could see a great difference in the two girls. One was selfish, and thought only of taking care of herself; the other was unselfish and faithful enough to forget her own safety in caring for the helpless little child entrusted to her. Children, which of these little girls would you like to imitate?
M. G.