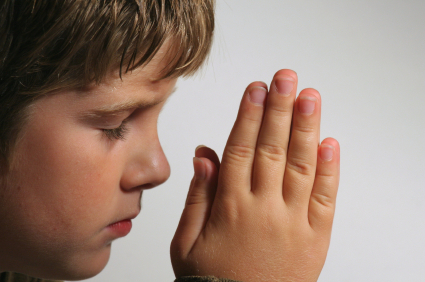 "FOR THINE IS THE POWER."
CAN'T do it, it's quite impossible. I've tried five times, and I can't get it right," and Ben pushed his book and slate away in despair.
Mrs. Hartley gave a little sigh at her boy's perplexity, but only said quietly, "Then you don't believe in the Lord's prayer?"
"The Lord's prayer, mother! Why, there's nothing there to help me with this example."
"Oh, yes; there is help for every trouble in life in the Lord's prayer, if we only know how to get at it. I am afraid you don't yet know that prayer."
Ben flushed. If it had been anybody else that had said that, he would have been really vexed, but mother was different. Ben always tried to be sure he quite understood her, for he never for one instant forgot why her hands were never idle.
"Now, mother, you don't mean that. I've said that prayer ever since I was a baby! I couldn't go to bed or leave my room in the morning without saying it. I know I sometimes don't think enough of what I am saying, but you know, mother, I do try to mean it!" But Ben stopped, his voice half choked.
The mother saw that her boy had misunderstood her, and answered quickly, "I never doubt, Ben, boy, that you are trying and praying; but I was trying a long time before I knew what the last part of the Lord's prayer really meant. I'm no minister or scholar, but I'll try and tell it to you. You know we ask God for bread, to be kept from evil, and to be forgiven, and then we say, For thine is the kingdom, the power, and the glory. It's God's power we rely on, not our own; and it often helps me, Ben, when I have a difficult new pattern to fit. I say,' For thine is the power, this is my duty, heavenly Father, give me thy power,' and he does, Ben, he does."
Ben sat silent. It seemed almost too familiar a prayer. And yet, that time when he had to stay from school because he had no clothes, he had asked God; and the minister's wife had brought him a suit the very next day. "But a boy's sums, mother!" he said.
"I think that the sum is just as much to you as many a grander sounding thing to someone else. You say if only you get that right, you will be perfect for the month.
Now, I care a great deal about that, but I'm sure your heavenly Father loves you more than I do. I would help you so gladly, Ben, if I could, but he can help you; his is the power; ask him."
There was another silence, and then Mrs. Hartley said, "Now, Ben, I want you to run to the store for some sewing-silk for me; the air will do you good. I believe, my son, that, if you ask, you can do that sum when you come home."
Ben started at once; his mother's slightest wish was law to him. He ran along, enjoying the rest from study and the cool, fresh air. The sewing-silk was bought, and Ben started home, when he caught sight of Phil Earlie across the street. Ben gave the whistle that boys so delight in, and Phil looked back, and joined him.
"Done your lessons?"
"All but my sums."
"Did you try the fifteenth example?"
"Yes."
"Get it right?"
"No, not yet; but I will"
Phil gave a provoking little laugh.
"You will? I guess not; I've done it, but I never could have found it out alone, I had help. "Ben's heart fairly ached with envy for a moment. It was always so; Phil had his Uncle George, and other boys had big brothers or fathers to help them; only he was left quite alone. But just then he remembered his mother's words, "It's God's power we rely on, not our own." "I'll get help, too," he said to himself. The boys chatted on, played leap-frog, and raced each other; but even as he raced and romped, Ben felt changed.- He had begun to believe in his heavenly Father as never before, and was wonderfully happy.
After giving the silk to his mother, he picked up his slate and book, and went up to his own little room. Kneeling by the bed, he repeated the Lord's prayer, stopping at "Thine is the kingdom," and saying with all his heart, "And thine is the power, heavenly Father. I want power to understand this. There's no one to help me;
please give me power."
Ben waited a moment, and then he took his slate and tried again. Do you ask me, "Did he succeed?" "If any of you lack wisdom, let him ask of God, that giveth to all men liberally, and upbraideth not; and it shall be given him." Ben had asked, and God had answered. After a little earnest thought, he saw what rule he had neglected, and worked the example correctly. The next day he was "head," for he was the only boy who had " done his sums without being helped."
"Yet I was helped, mother," he said; "and I shall never forget the last part of the Lord's prayer after this."
HOPE LEDYARD,
in S. S. Times..