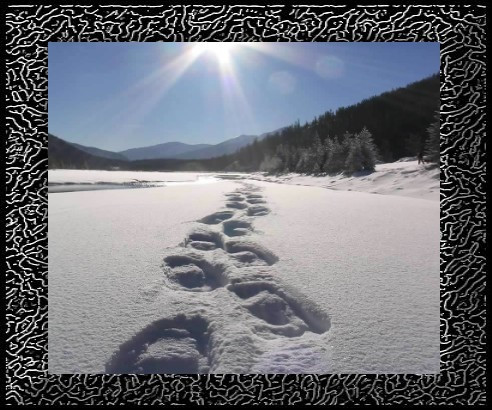 Work While Leaving Footprints
LEAVING FOOTPRINTS.
"LIVES of great men all remind us.
We may make our lives sublime,
And, departing, leave behind us
Footprints on the sands of time.
"Mabel came across these lines in her parsing, the other day. She had thought much about them since, and at last concluded to talk them over with mamma.
"'We may make our lives sublime.' Mamma, I guess that means me as well as any one else; but what can I do to leave 'footprints on the sands of time?' I haven't a sweet voice like Ethel Gray, who goes every week to sing to the orphans at the asylum. They all love her dearly. I guess she will leave footprints. I don't know enough about German to read the German Bible to old Carl, as some of the girls do. I can't sew for the sewing society; I hate sewing. I guess there's nothing I can do."
Mabel stopped at last, her bright face flushed with excitement.
"Let us see about it, my dear," said Mrs. Wood, kissing each rosy cheek.
"What little girl was it who made such delicious muffins when Bridget was sick; and who begged to be allowed to help Bridget iron the ruffled clothes because we all thought she did them so nicely; and who "
"There, mamma, that's enough," answered Mabel laughing. "I know I can do such commonplace things, but such work will not make my life sublime."
"I think there is a true sublimity in seeking the happiness of others, and in cheerful self-denial," was Mrs. Wood's reply. " If you wish to practice these virtues, I will tell you of an opportunity. You remember old Mrs. Maloney, Bridget's mother, who lives in the country? Bridget was telling me today that she was confined to her bed, with only a wee bit of a girl to wait on her. Now, how would you like to spend this afternoon making something nice for the poor old woman to eat? Tomorrow you might help me in the kitchen and give Bridget a holiday. We can easily manage to send her to visit her mother. Jack, the milk boy, goes past the old woman's house, and would gladly take a passenger."
"O mamma," said the impulsive child, " what a nice plan! I shall run and tell Bridget." Bridget was delighted. "A whole day," said she, " wid me ould mither!
You are a dear, Miss Mabel." The plan worked smoothly. The next morning Bridget took her place in the milk wagon, and was soon safely deposited at her mother's door.
Mabel worked with so much enthusiasm all day that the time seemed short, and the milk boy's evening bell, announcing Bridget's return, quite surprised her.
"You are not to go to work about supper, Bridget," she said. "I mean to finish the day; but while I work, you may sit there by the stove and tell me about your mother."
Bridget's account of her pleasant day, and Mabel's father's praise of the nicely prepared supper, repaid the little girl for all the self-denial she had practiced, and made her very happy.
At night the verses came back to her mind. "You are right, mamma," said she, as she bent forward for her evening kiss; " even children, when they make others happy, may leave
footprints."
Selected.