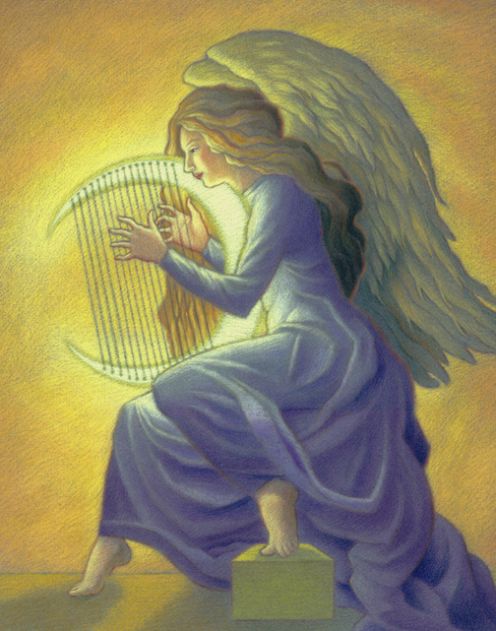 MUSIC.
MUSIC is "a succession of sounds so modulated as to please the ear." It steals into the soul and exerts a mysterious and undefinable power. It arouses the purest and sublimest emotions, as well as the sweetest and the saddest.
Though there are but few who are endowed with that sensibility necessary to enjoy music to its full capacity, yet there are none upon whom it does not have more or less effect. It awakens associations the most endearing, memories the most sacred.
The soft cradle hymn that fell from mother lips comes stealing through the years, softening and subduing.
The world would have fewer brave deeds to cherish if music had never found a home in the heart. The measured drum-beat has sustained armies in their weary marches, and inspired them in the rush to battle and to death, by helping to keep bright that noble sentiment, love of country.
Music and religion walk hand in hand. Who has not felt his soul thrilled by the music of the sanctuary, the deep-toned organ blending with the voices of the worshipers offering songs of praise to God? How many wounds it has healed, how many hearts comforted by its sweet tones!
There is a world of unwritten music all around us. From the free, glad songsters of the woods to the cricket that chirps beside the hearth, from the roar of a wild winter storm to the soft zephyrs of mid-summer that sing among the trees, from the grand and awfully sublime thunder tones of Niagara down to the silvery rippling rivulet, we hear the unwritten music of Nature, and feel it thrill the heart, causing us to look through Nature up to Nature's God.
And why has God placed us in a world of such harmonies? Why? But to prepare us for the finer melodies of Heaven. Happy shall we be if we can catch the glad refrain that echoes from the city of God, and tune our hearts to its melody, that we may, by-and-by, join in the glad new song around the throne of God.
V. A. M.
SILENT SERMONS OF COUNTRY LIFE.
Nature is always teaching. Country life, to the observant, is full of instruction. Morning and evening, the broad light of noon-day, the deep night with its starry hosts, spring and autumn, summer and winter, all are eloquent preachers to him who will listen.