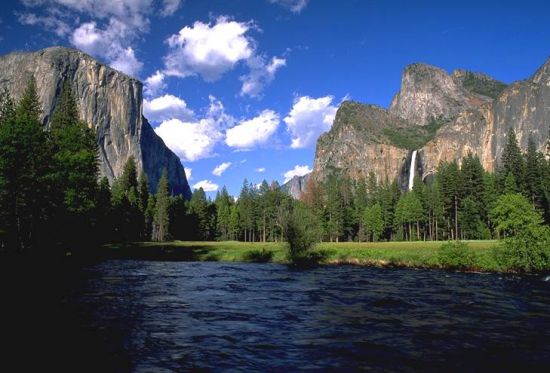 YOSEMITE VALLEY.
SAID a friend, "What! Have you been to the Yosemite, and never said anything about it?" Yes, I have been to the Yosemite; but the person who can visit that valley, and then be satisfied with any description he can give of it, must be sadly lacking in appreciation of the grand and beautiful in nature.
The Yosemite (yo-sem'-i-te) valley lies among the Sierra Nevada mountains, in the eastern part of central California. While I cannot hope to present an adequate description, I will attempt to give the reader a partial idea of this celebrated spot, which affords some of the grandest scenery on the Pacific coast. With a friend who had a pony-team, I started from near Mount Diabolo, Contra Costa county, nearly east from Oakland. Almost every river, bay, valley, town, and street, named by the Spanish missionaries, is named from some saint. Everything is "San" or "Santa." Why Mount Diabolo was made an exception, and named for the devil, I have never learned. It is quite a landmark, rising out of the plain to the height of 3000 feet. We went up the San Joaquin River, crossing it at Grayson, and then struck directly east to the mountains, striking the foothills near La Grange. Here considerable gold mining is done. Entering the foot-hills, we found the roughest roads of the whole journey before we reached Coulterville. This is a mining town, and shows that it has been a place of much business; some mining is still done in the canyons; but, like many other mining towns, Coulterville has seen its best days. It is over fifty miles from Yosemite Valley.
Here we commenced our regular mountain travel. We soon struck "a grade," which is the name of a steep road, or a road dug in the side of a mountain, to ascend it. As we wound around from one point to another, we could look up to a place far above us, where the road seemed to rest on the summit; but when we reached that point, it was only to find the road climbing up to newly revealed heights above. We concluded that this would bring us to the top of the mountain from which we would finally descend into the Yosemite Valley. But, to our surprise, after a few miles traveling on the top of this range, we began to descend another grade, and we went down, down, into another valley, which seemed to be as low as that in which we left Coulterville.
"What have we gained by climbing up that grade?" queried my companion.
"We are so much farther toward Yosemite," was my reply. And this we found to be only the beginning of a series of such up-and-down grades.
We had some extensive views of the face of the country, which is composed of long ranges, with valleys between, running toward the Merced River, which flows through Yosemite,
From some of these heights I saw more mountains than I ever saw before. With a clear sky, an unlimited view, with range after range spread out before us, the prospect was truly grand. Frequently we could look down into a smiling valley, where the farmers were gathering their hay.
And such mountain valleys are the most beautiful spots in the world; their beauty, probably, being heightened by the contrast.
It was interesting to note the changing vegetation from the valleys below, to the heights where we stood. The busy scenes of summer work, with lowers in the valley; nearer toward us the "dogwoods" were in full bloom; and nearer still they were just opening; while around us the oak buds were just swelling.
We had a tent, and carried our provisions and camped out, which I think is the best way to visit the valley.
We had no difficulty in finding good feed and water on the way. Far toward the valley we came to an up-grade, not generally so steep as some others, but about eight miles in length.
Here we found the toll-gatherer. We asked him if this was the last grade.
With a strong foreign accent, he told us that a mile down and a mile up would bring us in sight of the valley.
Our first view of the valley did not present to us a very clear outline of the objects of interest. Only El Capitan stood out in bold relief. Again we lost sight of the valley until we came to the grade, which led directly into it. This was quite steep, but well made, sometimes going where only blasting could make a road-bed on the steep and solid rock. Starting down this, we came in full view of the canyon of the Merced River below the valley. For rocky ruggedness it exceeded anything, which I had ever seen. The river raves and pitches through its rocky pathway I will not say "rocky bed," as that would give the idea that it has a bed similar to that of other rivers. The canyon is a mass of rocks, sometimes roughly piled from a great height to the very bottom, through which the river rushes in a constant foam, having no resting places or quiet pools.
J. H. WAGGONER.