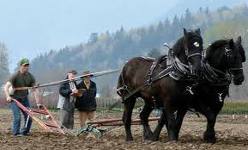 Girls, Help Your Father.
"My hands are so stiff I can hardly hold
a pen!" said farmer Wilbur, as he sat down
to figure out some accounts that were getting
behindhand.
"Can I help you, father?" said Lucy, laying
down her bright crotchet-work. "I
shall be glad to do so, if you will explain
what you want."
"Well, I shouldn't wonder if you could,
Lucy," he said, reflecting. "Pretty good
at figures, are you?"
"It would seem sad if I didn't know
something of them, after going twice through
the arithmetic," said Lucy, laughing.
"Well, I can show you in five minutes
what I have to do, and it'll be a wonderful
help if you can do it for me. I never was a,
master-head at accounts in my best days,
and it does not grow any easier since I put
on spectacles."
Very patiently did the helpful daughter
plod through the long lines of figures, leaving
the gay worsted to idle all the evening,
though she was in haste to finish her scarf.
It was reward enough to see her tired father,
who had been toiling all day for herself
and the other dear ones, sitting so
cozily in his arm-chair, enjoying his weekly
paper.
The clock struck nine before her task was
over; but the hearty, "Thank you, daughter,
a thousand times," took away all sense
of weariness.
"It's rather looking up where a man can
have such an amanuensis," said the farmer.
"It's not every farmer that can afford it."
"Not every farmer's daughter that is capable
of making one," said the mother, with
a little pardonable maternal pride.
"Not every one that would be willing, if
able," said Mr. Wilbur, which last was a
sad truth. How many daughters might be
of use to their fathers in this and many other
ways, who never think of lightening a care
or labor. If asked to perform some little
service, it is done at the best with a reluctant
step and an unwilling air that robs it of
all sunshine or claim to gratitude.
Girls, help your father! Give him a
cheerful home to rest in when evening
comes, and do not worry his life away by
fretting because he cannot afford you all the
luxuries you covet. Children exert as great
an influence on their parents as parents do
on their children.
Select