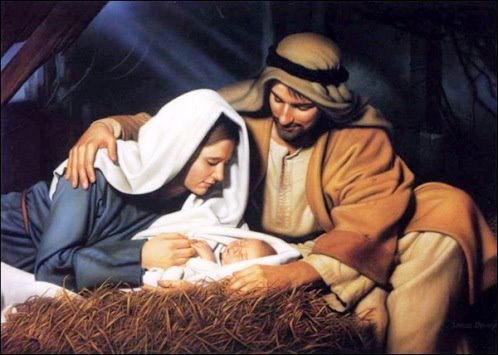 CHRISTMAS TIME.
THE twenty-fifth of December, as all know, is celebrated as the birthday of our Saviour. The first traces of the anniversary of this event are found about one hundred years after Christ's death. At first, it was the most movable of all Christian festivals, being at one time celebrated in April or May.
But in the 4th century it was agreed that December 25 was nearer the correct date. The practice of making presents on Christmas is derived from an old heathen practice at the feast of Sol. Formerly, and in some of the smaller villages of North Germany at the present day, all who wish to make presents send them to one person, who, in high buskins, a white robe, a mask, and an enormous flax wig, goes from house to house, is received by the parents with great pomp and reverence, calls for the children, and after severe inquiries, bestows the intended gifts upon them according to the character which he hears from the parents.
From this practice probably arose the story of Santa Claus, that celebrated but mysterious personage, who, as children are often taught, comes with his bells and reindeers to the top of the chimney, and climbs down with all manner of nice presents for them. But this fabulous tale, we are happy to say, is not taught by as many as formerly. Christmas day, if properly observed, will carry our minds back to Bethlehem, where in imagination we see Joseph and Mary, and the infant Saviour in a stable among the cattle. And why was he there? Simply because there was no room for him elsewhere. Perhaps if the people had known him they would have made room for him. But we inquire, Are there not some at the present time who know that this infant child was their Saviour, but who even now give him no room in their hearts or homes? We fear that for such Jesus will have no room in his kingdom.
M. K. W.