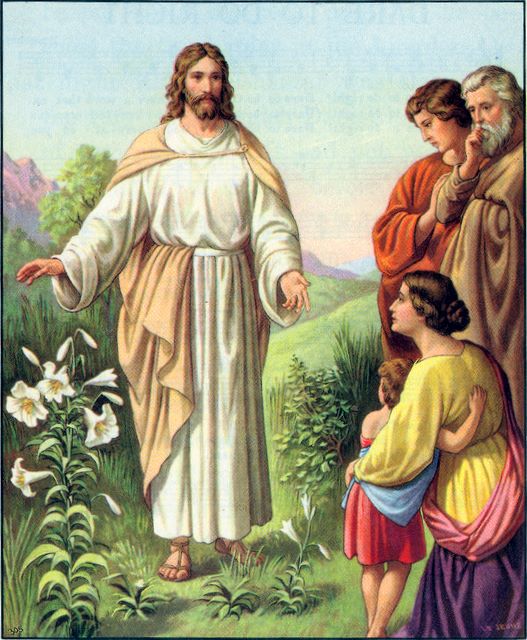 "Seventy Times Seven."
THE favorite lesson among little boys and girls
is usually arithmetic. Here is a sum. Let some
little child reckon it up. But why choose this
number? What is there special in 70 times 7?
Let us see. Peter once asked the Lord Jesus a
question which we should wish had been asked,
if Peter had not done so: "Lord, how often shall
my brother sin against me, and I forgive him?
Till seven times?" Perhaps he thought that was
a great many. Now mark the answer; it is very
weighty: "I say unto you, not until seven time?,
but until seventy times seven." As much as to
say. You must keep on forgiving. It leaves us
no room to harbor ill feelings against any body.
When people get angry and will not speak to
each other, or talk against or try in any way to
injure each other, or lay up "hard thoughts"
against their neighbors, or are bitter and
back-biting, they forget this rule; and to
forget it is a very serious thing, when we
remember that petition in the Lord's prayer,
asking God to "forgive us our sins as we forgive
those who sin against us." Think of that little
word "as." Will God forgive us as we forgive
others? According to this rule, "seventy times
seven" is none too large. Oh, how many, many
more times have we sinned against and grieved
our heavenly Father, than have any of our
companions sinned against us.
How much we need his forgiveness and favor!
Every moment, every hour we are
dependent upon his mercies.
Let us always try to breathe a forgiving spirit.
Let our word be, "I will forgive, for I need myself
to be forgiven." Let the dear children always
remember "seventy times seven;'' that is,
let them cherish such an habitual need of the
favor of God, that no room will be found in their
hearts for hard and stubborn thoughts against
their brothers, sisters, or play-fellows.
Invocation
THE CHILD'S INVOCATION.
My God, while I in youth rejoice,
Incline my ear to Wisdom's voice;
Teach me this day to bend the knee,
To love, adore and worship thee.
My thoughts would ever, ever rise
To Him who rules the earth and skies,
And ever as now my heart would be
From love of sinful pleasures free.
Thy sacred truth, O may it be
My guiding star to heaven and thee,
And love supreme, a golden chain
To bind me fast to thy domain:
Permit me not to tread the path,
That leads to shame and endless wrath,
But give me grace to do thy will,
And all life's duties to fulfill.
CHILDREN'S MISSIONS.

CHILDREN by our Lord were honored;
When on this poor earth he staid;
Fondly he embraced and blessed them,
Though a frowning throng forbade.
To his side a child he summoned,
Placed him in the midst, and told
Those that simple guide to follow,
Who God's kingdom would behold.
Still his Gospel honors children,
Bids them to Christ's service move,
And their little rills of beauty
Swell the ocean of his love;
Bids them strive with zealous pity
For the desolate and sad,
Till the dark and desert places
Are for them exceeding glad.
Children, to our dear Redeemer
Yield the grateful homage due,
And by love to every creature,
Pay the love he bears for you.
YI