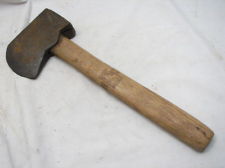 Don't Be too Certain.
BOYS, don't be too certain. Remember
that nothing is easier than to be mistaken.
And if you permit yourself to be mistaken
a great many times, everybody will lose
confidence in what you say.
"John, where's the hammer?"
"It is in the corn-house."
"No, it is not there; I have just been
looking there."
"Well, I know it is; I saw it there not
half an hour ago."
"If you say it is there, it must be there, of
course. But suppose you go and bring it."
John goes to the corn-house, and presently
returns with a small ax in his hand.
"Oh, it was the ax I saw. The handle
was sticking out from a half-bushel measure.
I thought it was the hammer."
"But you said positively that you did see
it, and not that you thought you saw it. There
is a great difference between the two answers.
Do not permit yourself to make a
positive statement, even about small matters,
unless you are quite sure; for if you do, you
will find the habit growing upon you, and,
by-and-by, you will begin to make loose replies
to questions of great importance.
Don'tbe too certain .'"—
Young Pilgrim.
NEW-YEAR'S DAY.
I Find songs are sweet to-day,
But, children, you must also pray,
Asking God to guard you here,
Making this a safe new year.
You must ask for grace within,
To follow Christ, forsaking SIN,
Living as his children dear,
Making this a holy year.
Little children, bright and gay,
I would not make you sad to-day;
Yet I must repeat it here,
This may be your last new year.
But if Jesus be your friend,
You have a life that will not end,
And a home that's shining clear,
Fairer than the fairest here.
Select.
Little Willie and the Apple.
WILLIE'S father was at work in the cellar,
and he stood by, earnestly watching his
movements. Presently the father picked
up from the cellar floor a nice russet apple,
and offered it to his son, saying, "Here,
Willie, you may eat this."
Willie, without moving a finger to take
the apple, answered, "Mother does not let
me eat more than one apple in the forenoon."
Willie had been for several weeks quite
unwell, and his mother had limited him to
two apples a day, one in the forenoon and
one in the afternoon, thinking that more
would injure him. When his father offered
him the apple, Willie remembered that he
had already had his apple that morning, and
he answered, in a pleasant tone, "Mother
does not let me eat more than one apple in
the forenoon."
Children that have a good mother, and
obey all her commands, are kept from a
thousand snares into which disobedient
children fall.
Willie's Penny
WILLIE'S penny made Heaven rejoice!
It could not have done much to help a starving
family. What did he do with it?
His sister was a missionary in Africa, and
the family were filling a box to send her.
As one after another deposited their gifts,
little Willie said: "I want to give my penny."
"What shall be bought with the little offering?"
was the next question. It was decided
to buy a tract, and write the history
of the gift on the margin, and with a prayer
for its success, send it on its distant errand.
The box arrived on the mission ground, and
among its valuable, interesting contents, Willie's
gift was laid away unnoticed, and for a
while forgotten. But God's watchful, all seeing
eye had not forgotten it. One day a
native teacher was starting from the mission
station to go to a school over the mountain
where he was to be employed. He was well
learned in the language, and was a valuable
help to the missionaries; but, alas! He lacked
the knowledge that cometh from above. He
was not a Christian, and had resisted all
efforts for his conversion. This was a great
grief to the missionaries; but they continued
to pray and hope.
In looking over some papers, Willie's tract
was discovered, with the marginal explanation,
and the fact that prayer had been offered
in beloved America for its success in doing
good. It was handed to the native teacher.
He read it on his journey. It opened his eyes,
showed him that he was a lost sinner, and that
all his learning could not help him. It also
told him of one who was able and willing to
save, who had died for him, and was willing
to have his great love returned.
What years of Christian labor by the missionaries
had not done was now brought
about by the penny tract. The strong man
bowed in penitence and humble submission at
Jesus' feet, and became a sincere Christian.
The missionaries to whom he went praised
God for the change which had sent them a
godly teacher. Those who put the tract in
his hand were overcome with joy; "for there
is joy in Heaven over one sinner that repenteth."
So you see how Willie's penny made
Heaven rejoice.
Select
'LIVING or dying, Lord,
I ask but to be thine;
My life to thee, thy life in me,
Makes Heaven forever mine.