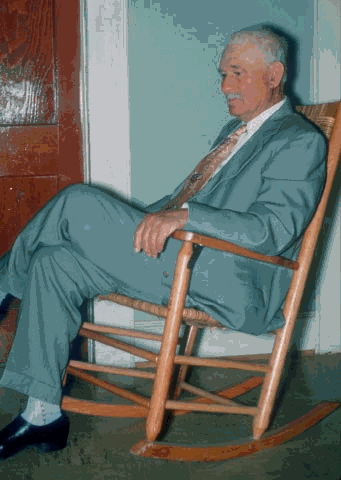 Grandpa's Fight.
"WHAT can be the trouble now? Something,
I' m sure, or these little feet would
never walk so slowly," said grandpa, as Mary
came into the kitchen, where he sat by the
fire, one cold morning in December.
"Tears too," he said, putting his hand to
her face, as she laid her hand on his shoulder.
"Grandpa's eyes can't see his pet's tears,
but he can feel them."
"Grandpa shouldn't feel my tears, then
he wouldn't know I have any. But I can't
help their coming," she said, as they burst out
afresh. "Dickey's dead, and that ugly Tom
Jones killed him, I'm sure."
"Why sure?" said grandpa.
"Because he said he would, the other day,
when Dick killed one of his doves. I told
him I was sorry, and wanted to pay him
for it, but he wouldn't let me. If I was a
big boy, instead of a little girl, I'd kill Carlo,
or do something to him. I'd pay him somehow;"
and her usually pleasant face looked
almost fierce.
"So would I," said grandpa. "And let me
tell you what a fight I had once, to pay a boy."
"You know I was in a good many battles,
when I was a young man," he continued,
"and lost both eyes and got a wooden leg by
the means; but I believe I never had quite
so hard a fight, as when I resolved to pay Jim
Ellis for tearing my kite to pieces, when I
was but twelve years old.
"Now I had two professed friends near
me at that time, one named Conscience and
the other Revenge; and as soon as I found out
what Jim had done, they began advising me.
"'Knock him over,' said Revenge.
"'Do unto others as ye would they should
do unto you,' said Conscience.'"
That rule will do very well for Jim,
but not for you,' said Revenge, 'I'd pay
the hateful fellow some way. He deserves a
good whipping.'
"'Love your enemies, and if they hunger,
feed them, and if they thirst, give them drink;
that will pay him,' whispered Conscience.'
'Yes, that will pay him well,' I said.
I'll do as Conscience tells me;' and then I
tried to drive Revenge away.
"But the bad fellow wouldn't go, and kept
telling me I was a fool and a coward, not to
be revenged on him, and tried very hard to
force me to do as he wished.
"But my good Conscience stood by and
helped me fight him off. And a desperate
fight it was. He was determined to conquer
me, and I was equally resolved to conquer him
But it wasn't fair play. He was a big fellow,
and more than a match for Conscience
and me together.
"At last another friend, named Prayer
came to help me. The instant Revenge
saw him, he began to tremble, and after a
few feeble blows, ran away out of sight
and had it not been for the scratches and
bruises he had given me, I should have for
gotten there ever was such a fellow, I was so
happy in being free from him."
"Wait a minute that isn't all," he said, as
Mary began to speak. "Just the instant Revenge
let go of me, I went to my desk in the
school-room, and taking out a top that Jim
Ellis was very fond of playing with, and I
knew he had long wished to own one like,
put it in his desk. It was his birthday, so I
wrote on a slip of paper, 'Will Jim Ellis please
accept this as a birthday gift from his friend
Charley?' Jim never tore my kite after that
nor was he anything but a true friend."
"I guess Revenge has run away from me,'
said Mary, her face looking quite like herself
again. "Maybe he doesn't like to hear such
stories about himself."
"You won't have Carlo killed?" said
grandpa.
"I guess not; and I think, grandpa, I can
spare Tom one of my fuchsias, after all; he
wants one so much, and is so fond of flowers.
I guess I'll give it to him Christmas."
"Right, my little girl; and remember if
ever that ugly fellow, Revenge, troubles you
again, Prayer will certainly help you to conquer
him."
Select