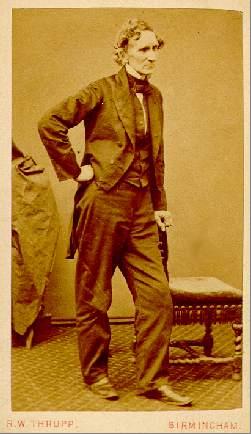 MAKE SOMEBODY HAPPY.
"NEVER go to bed without making sure you have done one good action, or made somebody happy," were the words Charley read as he glanced into a book a few moments before starting for school. "I wonder who does that," said he, as he closed the book. "I do not, and I don't believe any one does."
Charley was a very selfish boy, and liked to have his own way regardless of others' comfort or enjoyment, and so unthinking had he always been that he did not realize that any one had ever denied himself to gratify his desires. But those words, "somebody happy," rung in his ears that morning, and seemed to awaken a new train of thought in his mind, and, notwithstanding his former incredulity, he resolved to turn over a new leaf. Many opportunities to test his good resolution occurred that day, and though he failed in some respects, he felt when the day was past that it had been the happiest of his life.
Dear children, it is the privilege of every one of us to seek opportunities to make somebody happy; and if we follow our Saviour's example, we will do so.
J. A. CORLISS.
IMPROVE YOUR TIME.
TIME is truly precious; yet few realize its value and the importance of improving the moments as they pass. It is often difficult for the young to see this as it is. As they advance in age, they can look back and see how time was squandered. They might have done much more to qualify themselves to act their part in life, had they improved their time as they should have done. They might have educated themselves so that they would have been prepared for greater usefulness.
Many fail to do this, because they have not before them the true object of life.
They have no definite aim. They do not decide on a high and noble course of life, and lay their plans to reach something noble and valuable. It is of importance to aim at something good and great. And when this is decided upon, perseverance is essential to carry out the object; and system and plan in the use of time, giving a proper portion each day to certain pursuits.
Those who will determine in youth to acquire a good education, and will have a plan and pursue it with perseverance, can accomplish their object. Many are the examples of men rising to distinction as benefactors of mankind, by their own exertions and unconquerable perseverance. Such the world calls self-made men; because they rise to eminence in their professions without the advantages derived from wealth and favorable surroundings. There are some now living who have learned foreign languages, and thus qualified themselves to preach and publish the gospel to men of other tongues, by persevering industry and prayer, without the benefit of schools.
But good schools are a great help, and the young may have the benefit to be derived from them. Are you poor? A fixed and steady purpose will work its way through. Work and study may be used together, as was exemplified by Elihu Burritt, called the learned blacksmith, who acquired more than a dozen languages while at work at his anvil.
Let the youth have courage and decision in planning, and perseverance in execution, and success will crown their efforts.
Let them aim at something truly valuable, and turn away from all things which would draw them away from their purpose, and they will accomplish great and noble ends.
Do this now, before the time is past and you regret too late the misspent golden days of youth.
R. P. COTTRELL.