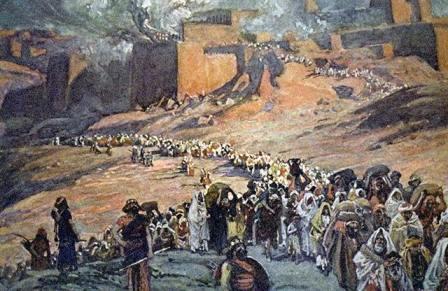 GEDALIAH.
THE following extracts from the works of Josephus, the noted Jewish historian, are full of interest to those who would know the history of the Jews still remaining in Judea after the destruction of Jerusalem by Nebuchadnezzar:
"Now the general of the army, Nebuzaraddan, when he had carried the people of the Jews into captivity, left the poor, and those that had deserted, in the country; and made one whose name was Gedaliah, the son of Ahikam, a person of a noble family, their governor; which Gedaliah was of a gentle and righteous disposition. He also commanded them that they should cultivate the ground, and pay an appointed tribute to the king."
"When Nebuzaraddan had done thus, he made haste to Babylon; but as to those that had fled away during the siege of Jerusalem, and had been scattered over the country, when they heard that the Babylonians were gone away, and had left a remnant in the land of Jerusalem, and those such as were to cultivate the same, they came together from all parts to Gedaliah to Mispah. . . . And Gedaliah persuaded them, now they were there, to stay with him, and to have no fear of the Babylonians, for if they would cultivate the country, they should suffer no harm. This he assured them of by oath; and said that they should have him for their patron, and that if any disturbance should arise, they should find him ready to defend them."
He said that they might dwell in any part of the land that pleased them, and that he would send men along with them to help rebuild houses on the old foundations. "When he had thus discoursed to them, he dismissed them."
Now when the people heard of the kindness of Gedaliah, "they were exceedingly in love with him, and told him that Baalis, the king of the Ammonites, had sent Ishmael to kill him by treachery and secretly, that he might have the dominion over the Israelites, as being of the royal family; and they said that he might deliver himself from this treacherous design, if he would give them leave to slay Ishmael, and nobody should know it. ... But he professed that he did not believe what they said, when they told him of such a treacherous design in a man that had been well treated by him."
He also thought it would be better to be slain than to take the risk of causing the death of an innocent man.
So Johanan and the other men who had come to warn Gedaliah, departed; and about thirty days after, Ishmael came, and ten men with him. Gedaliah feasted these men "in a splendid manner at his table," and also gave them presents. But in trying to be merry with them, he drank too much wine, so that he fell asleep; "and when Ishmael saw him in that case . . . he rose up on a sudden, with his ten friends, and slew Gedaliah and those that were with him at the feast; and when he had slain them, he went out by night, and slew all the Jews that were in the city, and those soldiers also which were left therein by the Babylonians; but the next day fourscore men came out of the country with presents to Gedaliah, none of them knowing what had befallen him.
When Ishmael saw them, he invited them in to Gedaliah, and when they were come in, he shut up the court, and slew them, and cast their bodies into a certain deep pit, that they might not be seen. "Ishmael was afterward overcome, and driven out of the country; but the Jews, fearing further trouble, especially from the Babylonians, proposed to go to Egypt. Before going, however, they wished Jeremiah to consult the Lord in relation to the matter. After ten days, God appeared to the prophet, and told him to say to the people, that "he would be with them while they remained in that country, and take care of them, and keep them from being hurt by the Babylonians, of whom they were afraid; but that he would desert them if they went into Egypt; and out of his wrath against them, would inflict the same punishment upon them which they knew their brethren had already suffered."
When the people heard this they would not believe that it was from the Lord; so, taking their own way, they went to Egypt, and there suffered the fulfillment of the prophecy.
G. H. B.