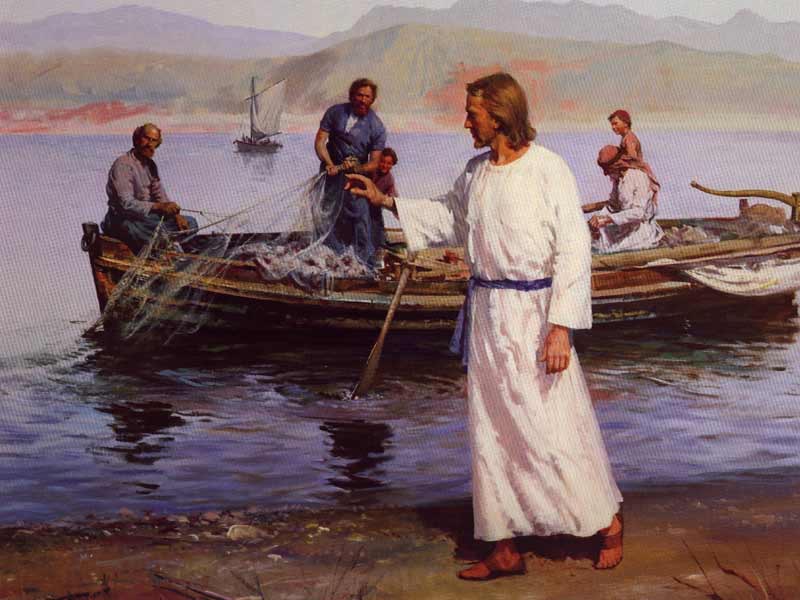 THE SEA OF GALILEE.
THE Sea of Galilee! We speak it reverently; for what place in all the Holy Lane is so inseparably connected with the life and teachings of our Saviour? In the cities and villages around it, he performed most of his mighty works; from a boat on the margin of this sea, he taught the assembled multitudes; over its clear water he often sailed; on them he walked, and hushed the tempest to a great calm; in the desert place on its shore he twice fed the gathered multitude with a few loaves and fishes; and on its hallowed shores it was that, after his resurrection, he kindled the fire of coals on the sand, "on the wet wild sands by the sea," and bade his tempest-tossed disciples come and dine with him there, "Where Peter, girding his fisher's coat, Went over the nets and out of the boat, to answer, 'Lovest thou me?'
Thrice over, 'Lovest thou me?'"
But why enumerate farther in a place whose very mention calls to mind some miracle or word of Him who "spake as never man spake"? Honored above all others be those waters, which so often bore on their bosom the Lord of glory!
"The sea is a beautiful sheet of limpid water lying in a deep, depressed basin and shut in by rounded hills, which rise steeply from its margin." The river Jordan enters it at the northern end, and passes out at its southern end, the bed of the lake being simply a lower section of the great Jordan valley. Says Dr. Fish, a traveler in the Holy Land: "The sight is very lovely, a clear, blue expanse of water, in oval form, fourteen miles long and half as wide, and almost completely embosomed in hills, with the Jordan flowing in at one end and out at the other, a sparkling diamond suspended by a silver thread."
Some travelers describe the scenery of this lake as tame and monotonous, having neither the romantic boldness of that around the Dead Sea nor the softer beauties of our western lakes. But others who have visited it in the springtime, when; he hills around were covered with grass and flowers, are almost entranced with the quiet beauty" of the little lake.
Mr. Prime is enthusiastic in its praise. He says: 'Of the beauty of the scene I cannot say enough, nor can I imagine where those travelers carried their eyes, who have described the scenery of the lake as tame or uninteresting. The first great characteristic of it is the deep basin in which it lies.
This is from three to four hundred feet deep on all sides except at the lower end, and the sharp slope of the banks, which are all of the richest green, is broken and diversified by the wadys and water-courses which work their way down through the ides of the basin, forming dark chasms or light sunny valleys. Near Tiberias these banks are rocky, and ancient sepulchers open in them, with their doors toward the water. They selected grand spots, as did the Egyptians of old, for burial places, as if they designed that when the voice of God should reach the sleepers, they should walk forth and open their eyes on scenes of glorious beauty. On the east, the wild and desolate mountains contrast finely with the deep blue lake; and toward the north, sublime and majestic, Hermon looks down on the sea, lifting his white crown to heaven with the pride of a hill that has seen the departing footsteps of a hundred generations."
Surely no one can visit the sea of Galilee, even in imagination, without appreciating, as never before, the beauty and witness of the Saviour's parables and the reality of his teachings. Yet what a feeling of sadness comes over the traveler as he sees how different are all things from what they were in the time of our Saviour!
"All around the sea silence and desolation reign; rarely is a human being met with in one's travels." The towns that once crowded the shores of the lake are gone, and of some of them even the ruins cannot be identified. The fish still inhabit the sea, but there are no fishermen to spread the net.
"Oh, how lonely are we
As we walk by the sea
Where the Master so often has stood!
Yet, thou dear Galilee!
We would linger by thee,
Where the voice of our Lord
Stilled the tempest's loud roar;
And his servants are we,
Whom he comes now to see,
As he stands in the morning on the shore.
E. B.
--------------
MIRACLES BY THE SEA OF GALILEE.
WHILE our Lord had his home at Capernaum, he often walked by the sea of Galilee, looking over the bright water, and watching the busy fishermen at their labor. On one occasion, when the people who had come out to see and hear him were so numerous as to make it inconvenient for all to reach him, he stepped into a fishing-boat and asked the owners of it to push out a little way from land. When he had gained a position where all could easily see and hear him, he began to teach "the waiting people on the shore."
Now the boat in which Jesus sat, belonged to Simon Peter and his brother Andrew; and when the Lord had finished his discourse, he said to Simon, "Launch out into the deep, and let down your nets for a draught. And Simon answering said, Master, we have toiled all the night, and have taken nothing, nevertheless, at thy word I will let down the net." Now when the net was cast, it was filled with such a multitude of fishes, that Simon and Andrew could not draw it in, but were obliged to call for help; for the net began to break. John and James, who were in another boat, came at once to the assistance of their friends, for they were partners with Simon and Andrew. So great was the draught of fishes that both boats were filled to the point of sinking. The fishermen were greatly astonished, and knew that their Lord had worked a miracle.
These men had been with Jesus before and had seen him work miracles; but this miracle was different from those they had seen wrought. They were with him at the Passover when the moneychangers were driven out; they had journeyed with him through Judea, Samaria, and Galilee; but now they had returned to their former occupation, and were earning a livelihood by toiling on the sea. Jesus was about to call them to leave all and follow him, and it may have been especially for their encouragement that this miracle was wrought.
They had toiled all the weary night and had taken nothing; but now, at a time undoubtedly regarded by them as most unfavorable, they had, at the word of their Lord, taken more than they could well care for. Thus he taught them how easily the Lord can provide for the temporary wants of those who give themselves to his service. Then he told them that if they would follow him, he would make them fishers of men.
And they went into Capernaum, and on the Sabbath day, when he taught in the synagogue, all were astonished, "for his word was with power." And there was present a man who had the spirit of an unclean devil, and cried out, saying "Let us alone; what have we to do with thee, thou Jesus of Nazareth? Art thou come to destroy us? I know thee, who thou art, the Holy One of God! And Jesus rebuked him, saying, Hold thy peace, and come out of him. And when the devil had thrown him in the midst, he came out of him, and hurt him not. And they were all amazed, and spake among themselves, saying, What a word is this for with authority and power he commandeth the unclean spirits, and they come out And the fame of him went out into every place of the country round about."
SECOND TOUR THROUGH GALILEE.
"AND forthwith, when they were come out of the synagogue, they entered into the house of Simon and Andrew, with James and John. "Now Simon's wife's mother was very sick with a fever, and her friends besought Jesus to do something for her. "And he came, and took her by the land, and lifted her up; and immediately the fever left her, and she ministered unto them."
"When the even was come, they brought unto him many that were possessed with devils; and he cast out the spirits with his word, and healed all that were sick; that it might be fulfilled which was spoken by Esaias the prophet, saying, Himself took our infirmities, and bare our sicknesses." And as devils came out of many, they said, "Thou art Christ the Son of God.
And he, rebuking them, suffered them not to speak; for they knew that he was Christ." "And in the morning, rising up a great while before day, he went out, and departed into a solitary place, and there prayed. And Simon and they that were with him followed after him. And when they had found him, they said unto him, All men seek for thee." "And he said unto them, I must preach the kingdom of God to other cities also; for therefore am I sent." And Jesus went about all Galilee, teaching in their synagogues and preaching the gospel of the kingdom, and healing all manner of sickness, and all manner of disease among the people."
"And there came a leper to him, beseeching him, and kneeling down to him, and saying unto him, If thou wilt thou canst make me clean. And Jesus, moved with compassion, put forth his hand, and touched him, and saith unto him, I will; be thou clean. And as soon as he had spoken, immediately the leprosy departed from him, and he was cleansed." "And Jesus saith unto him, See thou tell no man; but go thy way, show thyself to the priest," "and offer for thy cleansing those things which Moses commanded, for a testimony unto them." "But so much the more went there a fame abroad of him and great multitudes came together to hear, and to be healed by him of their infirmities. And he withdrew himself into the wilderness, and prayed;" yet even there he could not long find rest, for ''the came to him from every quarter."
"And again he entered into Capernaum." "And it came to pass on a certain day, as he was teaching, that there were Pharisees and doctors of the law sitting by, which were come out of every town of Galilee, and Judea, and Jerusalem; and the power of the Lord was present to heal them." "And straightway many were gathered together, insomuch that there was no room to receive them, no, not as much as about the door; and he preached the word unto them." And as he was preaching, four men came, bringing on a bed one who was sick of the palsy. "And when they could not find by what way they might bring him in because of the multitude, they went upon the housetop, and let him down through the tiling with his couch into the midst before Jesus. And when he saw their faith, he said unto him, Man, thy sins are forgiven thee. And the scribes and Pharisees began to reason saying, Who is this that speaketh blasphemies? Who can forgive sins, but, God alone? But when Jesus perceived their thoughts, he answering said unto them, What reason ye in your hearts? Whether is easier, to say, Thy sins be forgiven thee or to say, Rise up and walk? But that ye may know that the Son of man hath power upon earth to forgive sins, (he said unto the sick of the palsy,) I say unto thee, Arise, and take up thy couch, and go unto thine house. And immediately he rose up before them, and took up that whereon he ay, and departed to his own house, glorifying God. And they were all amazed, and they glorified God, and were filled with fear, saying, We have seen strange things today!"