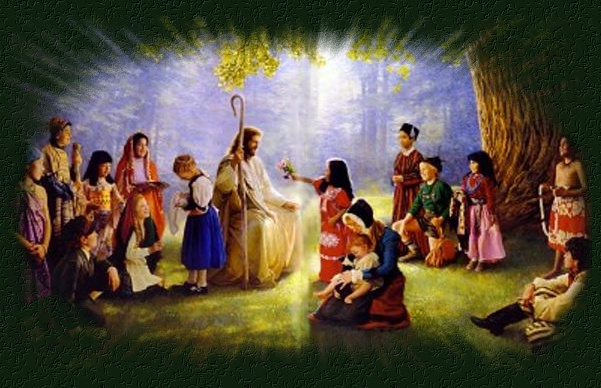 All May Come To Jesus
Not Too Late
SABBATH MORNING.
THE rosy light is dawning
Upon the mountain's brow;
It is the Sabbath morning -
Arise and pay thy vow.
Lift up thy voice to heaven
In sacred praise and prayer,
While unto thee is given
The light of life to share.
The landscape lately shrouded
By evening's paler air,
Smiles beauteous and unclouded
Before the eye of day:
So let our souls benighted
Too long in folly's shade,
By thy kind smiles be lighted
To joys that never fade.
THE CHILD'S INQUIRY.
MY mother dear, when shall I see
That Holy City fair and free.
Which father reads about?
When shall I see its pearly gates?
When shall I walk its golden streets,
And hear the ransomed shout?
When shall I see the glorious throne,
There in the New Jerusalem,
And dwell with Christ our King?
When shall I walk those lovely plains,
And hear the lofty, lovely strains,
Which the redeemed shall sing?
My mother dear, O, shall I see
The tree of life, that lovely tree,
And pluck its golden fruit?
Shall I there pluck unfading flowers,
Which blossom in its lovely bowers,
Where all is fair and good
And shall I see that glorious light,
Like jasper stone so fair and bright,
And river pure and clear?
And shall I be from sin made free?
Most glorious thought! When will it be?
Pray tell me, mother dear.
ANSWER.
My child, 'twill be when Jesus comes
And purifies the earth,
That all this glory will be seen
In its true real worth.
'Twill not be long, the signs are past
Which spake his coming nigh.
We now with joy lift up our heads,
Knowing redemption's nigh.
And if you make the Word of God
Your counsel and your guide,
He'll be the fortress and the tower
In which you may abide.
His Word's a treasure to the heart
Of those who love him here:
From which they feel they cannot part,
Till Jesus doth appear.
Then let your heart, my darling child,
Its grateful homage pay
To him who all things freely gives,
And guides you everyday.
And then when Christ the Saviour comes,
With all these glories bright,
You will with joy lift up your head
And hail the holy light.
PRAYER.
The breath of prayer comes from the
life of faith. Never think God's delays are
denials.
Prayer, if it be done as a task, is no prayer.
Let me entreat of you to pause now in this
downward course, turn again to that Saviour
whom you have so deeply grieved, and by
supplication and prayer make your peace with
him ere it is forever too late. That "day of wrath"
and "desolation" is soon coming. Many will pray
then, when they can no longer be heard. Those
who now reject the calls of offered mercy, will
then cry in vain, for there will be no more hope.
O, will you "neglect so great salvation;" and at
last this be the language of your soul: "The
harvest is past the summer is ended and we are
not saved." O fly! fly! To the ark of refuge now,
while Jesus is yet in the "Most Holy" pleading
his blood for you.
Rest not till you are assured you have his
pardoning smiles.
My young friends who have never given their
hearts to God, come, oh come to Jesus now.
He is waiting to receive you.
Will you grieve Him by longer delay
Remember He gave His precious life
a ransom for yours.
He offers you a free and full salvation.
You will wish to have a shelter in the
coming storm, but to obtain it, you must
prepare now. Then "Seek ye the Lord while he
may be found, call ye upon him while he is near."
A. N. H., Feb. 1st, 1854.