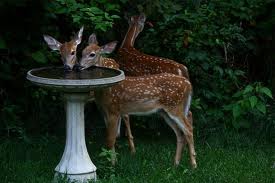 A LITTLE ERRAND FOR GOD.
ELEN stood on the door-step with a small basket in her hand, when her father drove up and said: "I am glad you are all ready to go out, dear; I came to take you to Mrs. Lee's park to see the new deer."
"Oh, thank you, papa, but I can't go just this time. The deer will keep, and we can go tomorrow.
I have a particular errand to do now," said the little girl.
"What is it, dear?" asked the father.
"Oh, it's to carry this somewhere; and she held up the basket. Her father smiled and asked: "Who is the errand for, dear? "
"For my own self, papa; but oh, no; I guess not it's a little errand for God, papa."
"Well, I will not hinder you, my dear," said the good father, tenderly. "Can I help you any?"
"No, sir. I was going to carry my orange that I saved from the dessert, to old Peter."
"Is old Peter sick?"
"No, I hope not; but he never has anything nice; and he's good and thankful!
Big folks give him only cold meat and broken bread; and I thought an orange would look so beautiful and make him so happy! Don't you think poor well folks ought to be comforted sometimes as well as the poor sick folks, papa?"
"Yes, my dear; and I think we often forget them until sickness or starvation comes. You are right; this is a little errand for God. As I want to speak with mamma a few minutes, I will wait till you have done the errand, and then take you to see the deer. Have you a pin, Helen?"
"Yes, papa; here is one."
"Well, here is a five dollar bill for you to fix on the skin of the orange. This will pay old Peter's rent for four weeks, and perhaps this will be a little errand for God, too," said the gentleman.
Little Helen, who had taught a wise man a lesson, looked very happy as her fingers fixed the fresh bill on the orange.
Baptist Weekly.