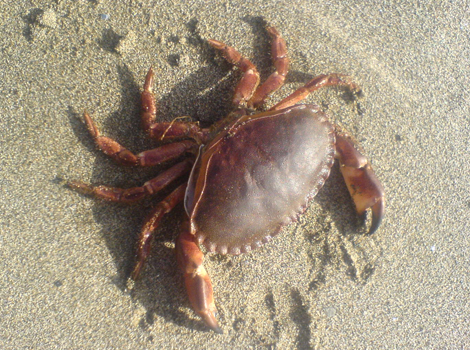 LITTLE MARGARET.
LITTLE Margaret had a bad habit of tasting everything that came in her way. Now this was very wrong, for, besides being greedy, it was taking what did not belong to her, and, as the old rhyme says, "It is a sin to steal a pin."
One day, Margaret's mother was very busy in the kitchen, and she called to her little daughter, and said, "Maggie, run and bring me a lemon; here is the key of the larder."
When Margaret came to the place to which she had been sent, she looked eagerly round, to see if there was anything to taste.
There, up on a high shelf, she spied a honey pot. She got a chair, and stood on tiptoe, stretching up as high as she could to reach the pot, that she might dip her fingers into the honey.
But suddenly she felt something pinch her finger most terribly. She drew her finger back with a scream, and there hanging to it was a great crab, which had caught hold of her finger with its claw, and would not let go!
It seems that Margaret's mother had emptied out the honey a day or two before, without Margaret's knowledge, and had put a few crabs into the pot, as it happened to empty.
Margaret's screams brought her mother to the larder in a great hurry. She loosened the poor little pinched finger from the crab's claw, and said:
"Let this punishment be a warning to you, for this habit of yours might have bad consequences. Many a person who has begun with committing a little fault of this kind in youth, has gone to do much worse, until something terrible has happened. Besides, every child ought to be ashamed of greediness."
Young Crusader.