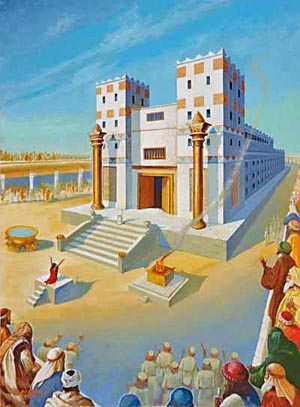 THE DEDICATION OF THE TEMPLE.
WHEN Solomon had finished the temple, he brought the ark of God into it, and put it in the most holy place. The tabernacle itself, also and all its holy vessels, were brought in; but they were probably put in the chambers that had been built against the sides of the temple. Then all the people came together at Jerusalem to dedicate the temple. The singers arrayed in white linen, and having cymbals, psalteries, and harps, stood at the east end of the altar, and with them a hundred and twenty priests, sounding with trumpets. When they all sung and praised the Lord together, the glory of the Lord so filled the house that the priests could not stand to minister by reason of the cloud.
Then Solomon told all the congregation what the Lord had said to David about the building of the temple; and blessed the Lord because he had fulfilled all his promises to David. And he stood by the altar, and spread forth his hands and prayed; and when he had finished, fire came down from heaven, and consumed the sacrifices. "Then the king and all the people offered sacrifices before the Lord. And king Solomon offered a sacrifice of twenty and two thousand oxen, and a hundred and twenty thousand sheep: so the king and all the people dedicated the house of God."
After this, "The Lord appeared to Solomon the second time, as he had appeared unto him at Gibeon. And the Lord said unto him, I have heard thy prayer . . . ; I have hallowed this house which thou hast built, to put my name there forever . . . ; and if thou wilt walk before me .... in integrity of heart and in uprightness, to do according to all that I have commanded thee, and wilt keep my statutes and my judgments, then I will establish the throne of thy kingdom upon Israel forever . . . ; but if ye shall at all turn from following me, ye or your children, and will not keep my commandments . . . , but go and serve other gods, and worship them; then will I cut off Israel out of the land which I have given them, and this house which I have hallowed for my name will I cast out of my sight; and Israel shall be a proverb and a byword among all people."
He said also that the people of other nations should be astonished, and should say, "Why hath the Lord done thus unto this land, and to this house?" and they should be answered, "Because they forsook the Lord their God, who brought forth their fathers out of the land of Egypt, and have taken hold upon other gods, and have worshiped them, and served them; therefore hath the Lord brought upon them all this evil."