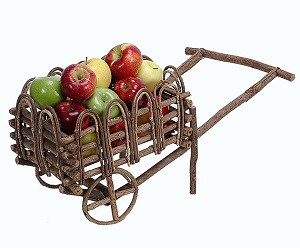 A SERMON ON "PUSH."
WHEN Cousin Will was at home for vacation, the boys always expected plenty of fun. The last frolic before he went back to his studies was a long tramp after hazel-nuts.
As they were hurrying along in high glee, they came upon a discouraged-looking man and a discouraged-looking cart.
The cart was standing full of apples before an orchard. The man was trying to pull it up hill to his own house. The boys did not wait to be invited, but ran to help with a good will.
"Push, push!" was the cry.
The man brightened up; the cart trundled along as fast as they could make it, and in five minutes they all stood panting at the top of the hill.
"Obliged to ye," said the man; "you just wait a minute," and he hurried into the house, while two or three pink-aproned children peeped out of the door.
"Now, boys," said Cousin Will, "this is a shall thing; but I wish we could all take a motto out of it, and keep it for life.
'Push!' it is just the word for a grand, clear morning like this; it is just the word for strong arms and young hearts; it is just the word for a world that is full of work as this is. If anybody is in trouble, and you see it, don't stand back;
push!
If there's anything good doing in any place where you happen to be, push! If there's any work going on in the Sabbath-school, push!
Don't drag back, I beg of you. You'll do one or the other. Whenever there's a kind thing, a Christian thing, a happy thing, a pleasant thing, whether it is your own or not, whether it is at home or in the town, at church or at school, just help with all your might; push! "At that minute the farmer came out again with a dish of his wife's best dough-nuts, and a dish of his own best apples; and that was an end of the little sermon.