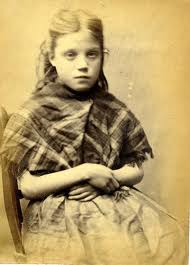 Somebody Loves Me.
Two or three years ago, the superintendent
of the Little Wanderer's Home,
received one morning a request from the
judge that he would come up to the courthouse.
He complied directly, and found
there a group of seven little girls, dirty,
ragged, and forlorn, beyond what even he
was accustomed to see. The judge, pointing
to them utterly friendless and homeless
said, "Mr. T., can you take any of them?"
"Certainly, I can take them all, was
the prompt reply.
"Ah! What in the world can you do with them?"
"I'll make women of them."
He singled out one, even worse in appearance
than the rest, and asked again:
"What can you do with that one?"
"I'll make a woman of her," Mr. T. replied,
firmly and hopefully. They were
washed, and supplied with good suppers
and beds. The next morning they went
into the school-room with the children.
Mary was the little girl whose chance for
better things the judge thought small.
During the forenoon, the teacher said to
Mr. T., in reference to her,
"I never saw a child like that; I have
tried for an hour to get a smile, but failed."
Mr. T. said afterward himself, that her
face was the saddest he had ever seen,
sorrowful beyond expression yet she was
a very sweet little girl, only five or six years old.
After school, he called her into his office,
and said, pleasantly,
"Mary, I've lost my little pet. I used to
have a little girl that would wait on me,
and would sit on my knee; and I loved her
very much. A kind gentleman and lady have
adopted her, and I would like you to take
her place, and be my pet now. Will you?"
A gleam of light flitted over the poor
child's face as she began to understand
him. He gave her a penny, and told her
she might go to a shop and get some
candy. While she was out, he took two or
three newspapers, tore them into pieces,
and scattered them about the room. When
she returned, in a few minutes, he said to
her, "Mary, will you clear up my office a little
for me; pick up those papers, and make
it look nice?"
She went to work with a will. A little
more of this sort of management in fact,
treating her as a kind father would, wrought
the desired result. She went into the
school-room after dinner with so changed a
look and bearing that the teacher was as
astonished.
The child's face was absolutely
radiant; and, half fearful of mental wandering,
he went to her, and said,
"Mary, what is it? What makes you
look so happy?"
Oh, I have got some one to love! Somebody
to love me!" the child answered,
earnestly, as if it were Heaven come down
to earth.
That was all the secret. For want of love,
that little one's life had been so
cold and desolate that she had lost
childhoods beautiful faith and hope.
She could not at first believe the reality of
kindness or joy for her. It was the certainty that
someone loved her and desired her affection
that lighted the child's soul and glorified
her face. Mary has since been adopted
by wealthy people, and now lives in a
beautiful home; but more than all its
beauty and comfort, running like a golden
thread through it all, she still finds the love
of her adopted father and mother.
Select