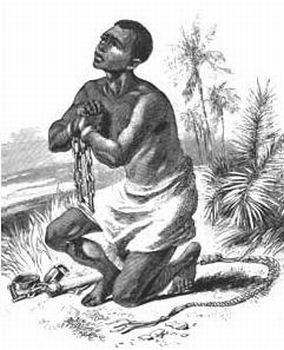 The Converted Negro
[The religion of the Bible is exactly suited
to the wants of all classes. And its effects are
always the same, whether among the poor or
rich, black or white, old or young. God is no
respecter of persons, but in every place those
who do his will are accepted of him.]
CAMBO, a Negro, in one of the Southern
States, being desired to give some account of
his conversion, said, "While in my own country
(Guinea), me had no knowledge of the being
of God; me thought me should die like
the beasts. After me was brought to America
and sold as a slave, as me and another servant
by the name of Bess were working in the field,
me began to sing one of my old country songs,
'It is time to go home,' when Bess say to me,
'Cambo, why you sing so for?' Mo say, 'Me
no sick, me no sorry; why me sing?' Bess
say,' You better pray to your blessed Lord and
Massa, to have mercy on your soul.' Me look
'round, me look up, me see no one to pray to,
but the words sound in my ears, 'Better pray
to your Lord and Massa!' Bye-and-bye, me
feel bad; sun shine sorry, birds sing sorry,
land look sorry, but Cambo sorrier than them.
Then me cry out, ' Mercy, mercy, Lord on
poor Cambo!' Bye-and-bye, water come in my
eyes, and glad come in my heart; then sun
look gay,-woods look gay, birds sing gay, land
look gay, but poor Cambo gladder than them
all. Me love my Massa some; me want to love
him more.'