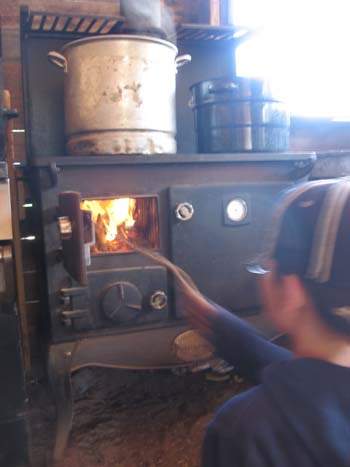 A Little Heroine.
THE rare faculty of presence of mind was recently manifested in so extraordinary a degree by a little girl upon one of the lake steamers that it is worth recording: A Chicago lady accompanied by her daughter, aged twelve years, were among the passengers on the last trip of the boat from Chicago to Buffalo; and when a day or two out, the girl, in roaming about the vessel, found her way into the kitchen and remarked to the cook that she thought the stove smoked considerably, to which the cook replied that she was mistaken. The child had heard her mother say that she dreaded traveling on a boat for fear of fire; and with this in her mind, and taking another look at the place where the smoke seemed to come from, she discovered that it did not issue from the stove. Going on deck, she discovered the wood-work around the smokestack on fire, and the flames just eating their way into the cabin. Without giving any general alarm.
she went to the steward and told him the boat was on fire. He informed the mate, who called the deck hands aft, and extinguished the fire without one of the passengers' being aware that anything of the kind had occurred. There were twenty-two ladies sitting on deck in the bow of the boat, among them the mother of Annie, while this was going on.
After the work had been done, Annie went to her mother and said, "Don't be frightened, mother; the boat has been on fire; but it is all over now."
The captain was so greatly pleased with the cool, calm, and quiet manner in which the child performed her part, that he refunded the passage money of both, and offered to take them back to Chicago free of charge. It was a brave act, to say the least; and had she screamed, "Fire!" as most persons would have done, with so many ladies on board, the consequences might have been of a very serious nature.
Select