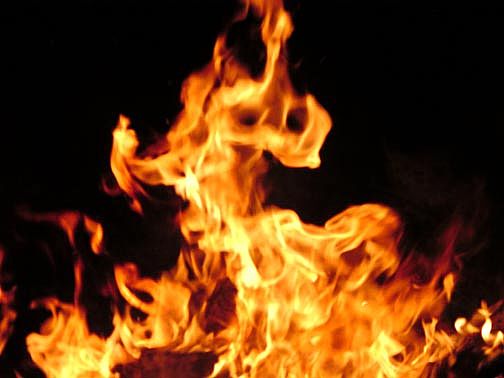 THE FIRST PRAYER.
PRAYER is said to be "the desire of the heart." It is that and more. It is the earnest calling upon God from the heart. Let me tell you about the first prayer of a little orphan child a good many years ago. A disease had broken out in the neighborhood of this little girl's home, which was particularly fatal among the children, in one instance taking away three bright, active children from one family, leaving the parents childless mourners.
These sad circumstances naturally caused much serious thought. The little girl of whom I speak was sometimes left alone all night, the people with whom she lived being called away to care for the sick and the dying. One evening she was sent on an errand to a neighbor's house, and while there she heard the remark that "not one would escape until the disease had taken every one whose constitution was not strong enough to resist it." These words sank like lead into the heart of the little girl. With fleet steps she went back to her home, her heart in an agony of dread, lest she should be stricken down before morning. But her fear was not the fear of death alone, or the natural dread of dying, but the fear of the Judgment. She had been a Sabbath-school scholar, and by its instructions and reading the Bible and other good books, she had learned that she was a sinner by nature, and without the forgiveness of God and his grace in her heart, she must be lost. She knew, also, that to obtain the forgiveness of God she must pray. But she thought, "How can I pray? I do not know how to pray. How can I speak to God? I don't know what words to use."
You see she had not been taught to pray, and those that had the care of her had thought their duty done when she was fed and clothed and strictly disciplined in obedience to their commands. But now, at this particular time, she wanted to know what to do to find Jesus. She wanted God's forgiveness, and knew not how to ask him for it.
While hurrying along home in the fast-gathering twilight, the thought came to her that in her Sabbath-school book there was a child's prayer in verse. "Now," thought she, "I know what I can do. I will learn this prayer so as to be able to repeat it, and then I can pray."
She reached home to spend the night alone. She took her book in her hand, but now a new difficulty presented itself. She was forbidden to have a light, and it was too dark to see the letters. After a little the moon rose and shone clear. She then tried to trace the lines by the light of the moon, but found it insufficient. Then a happy thought occurred to her. There were still a few smouldering embers in the wide, old-fashioned fireplace. She hastily gathered a few chips and light sticks, and soon had a brisk blaze, which afforded light enough, by crouching down close beside it, to see the words.
She now began the willing task of learning the words of the prayer, which consisted of seven or eight couplets, or two-line verses. When she had it learned so as to be able to repeat it, she sought her lonely chamber, and there, in the darkness and solitude, she knelt, and with those words, tried to seek God. She did not then realize as she does now that this poetic prayer was not at all appropriate; that is, it did not represent the great want, the real prayer of her heart, which was that God would forgive her sins, make her his child, help her to do right, and save her in his kingdom.
That was the real prayer of her heart, and she now believes that God heard it; for his ear is open to the children's prayer, and he can read the real want of the heart though the child may not know how to frame the prayer with the most appropriate language to express its want. She felt comforted, but not quite at ease. She thought, "I will continue to pray every night, and try to do right; it is all that I can do."
The second night she knelt, and using the same words, tried to seek God's mercy; and she distinctly remembers, though more than thirty years have passed, the sweet peace that took possession of her heart as she sought her humble pillow and thought to herself," I will always pray and be God's child."
But for the want of any one to counsel, instruct, and encourage her, she did, after a time, become discouraged and give up the daily prayer. Yet she believes that God did not forsake nor forget her; for she has been spared, and at the age of sixteen she heard and gladly embraced the great truths that this little paper is teaching you. Let me entreat of you, dear children, to be praying children; and if you really pray from the heart, God will hear and bless you.
C. M. RATHBUN.
WHEN you attempt anything that is right, go through with it. Be not easily discouraged. Form habits of perseverance. Yield not to sloth, and sleep, and fickleness. To resist all these will not be easy, but you will feel that you have done right when your undertaking is finished.