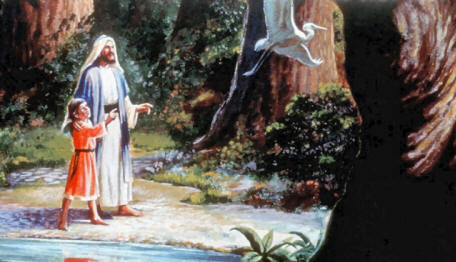 A Good Old Man
HYMN.
WIDE is the gate and broad the way
That leads mankind to sin;
And Satan's baits are painted gay,
To lure the careless in.
How may a simple child be wise,
And hidden snares discern?
That wisdom God alone supplies;
Seek ye the Lord, and learn.
0 learn of him, the lowly Lamb,
His gentle voice obey;
Walk in his stops, and sure I am,
You cannot lose the way.
For he was patient, meek and mild,
And loved his Father's will;
The humble and obedient child,
He guards from every ill.
And he will bear you to the place
Where sin is known no more
With angels to behold his face,
And his great name adore.
Charlotte Elizabeth
A GOOD OLD MAN.
A GREAT many years ago, far away over the dark blue ocean, lived a very good man. His home was in a goodly land. We read of many things, which happened there. The book from which we learn this is the Bible. When you read stories there, which you cannot understand, you must ask some one to explain them to you.
This man's name was not Henry, or George, or William; it was Enoch. There is one thing the Bible tells us of him I wish you to remember, Enoch walked with God. If you will turn to Genesis 5: 24, you can read it there for yourself. Do you know what this means? Enoch had God in all his thoughts. If he walked out in the bright noon-day, and saw the trees and the flowers, and the grass, and everything, look pleasant and delightful, he thought of something more than this world; he remembered that God, who lives in heaven, made it all; and he felt grateful and happy.
If he sat at his door, watching the sun sinking to sleep in the crimson clouds of the west, then, too, when all was so calm and still everywhere, Enoch loved to think of God; of all his kindness in taking care of him through the day, and of that solemn hour when his sun of life should set, and when he should awake in heaven. Have you ever been away from your mother, and have you not thought so much of her, waking and sleeping, that it has almost seemed as if she were by you, and you could speak to her?
So did Enoch think of his Heavenly Parent, as if he had been constantly at his side and he could see him. The Bible calls it, "walking with God."
You have seen an old man, tottering about the street, bending over his staff. Perhaps he was eighty-five or ninety. That is considered quite aged now; but Enoch lived to be older than that.
He lived more than a hundred years more than a hundred and fifty more than three hundred he lived three hundred and sixty-five years. You have never seen, any one as old as that. Sometimes I fancy how he looked; perhaps tall and straight, with a loose robe, and long white hair flowing down over his shoulders, and the expression of his face calm and happy, and almost holy.
So when he was three hundred and sixty-five years old, I was going to say, he died; but the Bible tells US," he was not, for God took him."
His Heavenly Father loved him, and he went to heaven without dying. We do not know in what way, whether in chariots of fire, or whether he mingled in the clouds and was seen no more; we are only told, God took him.
There are a great many good people now who walk with God. Every one, large or small, who thinks of him as Enoch did, walks with God. There are many little children, who, whether studying, working, playing, talking, or at rest, remember that God is by them. He is in all their thoughts. They try to keep his commandments.
They grieve if they displease him even in a thought, which no one else can know. They need never be afraid of death. It cannot harm them; it will be but as a sweet sleep, for "God will take them."
Selected