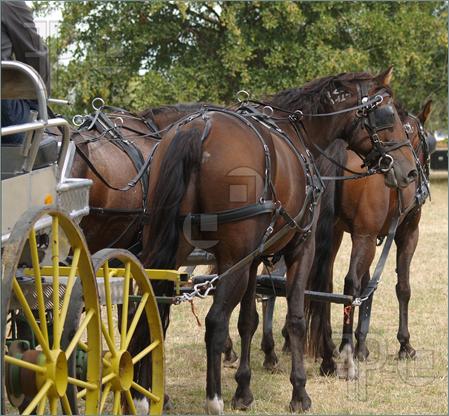 The Heroic Servant
SOME years ago, a nobleman and his lady
were traveling in Russia, attended by a very
trusty servant, who had been in that country
before. At a certain stage where they stopped
to change their four horses, the keeper of the
inn and the man-servant entreated the nobleman
to remain there for the night, informing
him that the district of country on which they
were about to enter was very dangerous, on account
of the numerous wolves with which it
was infested; but he was so anxious to reach
his destination that he determined to proceed.
For a while all was well; but, as the gloom
of evening deepened, a fierce howl was heard
"Master!" exclaimed the servant, "yonder are
a number of wolves coming towards us, fire
the pistol."
This was done, and for a moment the animals
were arrested; but on they came again.
"Give them one of the horses."
It was soon loosed and left; for a short time
the wolves were occupied in tearing it to
pieces and devouring it, while the travelers
hurried on.
But the fearful howl was again heard, and
another horse was left, which again delayed them.
"Master," said the servant, "there is only
one more chance for you: when they appear
gain, I will throw myself into their midst and
engage them, while you and your lady escape
for your lives."
The nobleman earnestly objected; but the
wolves again were near, and the man leaped,
pistol in hand, among them.
The travelers reached the next town in safety.
At daybreak the nobleman returned to
the spot; a few rags and bones told the sad tale
He erected a pillar with this verse inscribed on
it: "Greater love hath no man than
this, that a man lay down his life for his friends."
Earthly love can go no higher; but turn
YOUR eyes to Jesus, pouring out his blood, not
for his friends, but for his enemies, and in the
agonies of death praying for his murderers.
S. S. Times.