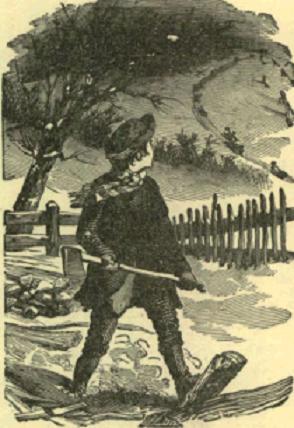 WORK BEFORE PLAY.
MOTHER, may I go coasting with the boys, on the hill just back of the yard?" cried Willie Mills, as he rushed into the house after school.
"Yes, my son, after you have split and brought in a wood-box full of wood for me," replied his mother.
"All right, mother, it's a bargain," and in a moment more Willie was hard at work. But how long it takes tonight to fill the box; it seems as if it never held so much before.
As the boys shout and halloo to one another, he cannot help turning, now and then, to look at them; but not long, for the longer he looks, the longer it will be before he can join them. At last the box is full.
"There, mother," said he, "the wood is all in; can I do anything more for you? Oh, yes; I will fill the water-pail," and soon it stands brimful on the shelf.
"Now good-by, mother, I'm off," and his bright, joyous face was worth seeing, as, sled in hand, he ran to join his playmates.
And what made him so happy? Not simply the pleasure of coasting; oh, no; it was because he was doing right. He did his work before he played, and that was the secret of his happiness. Try it, boys and girls, and see if it is not the best way.
V. A. M.