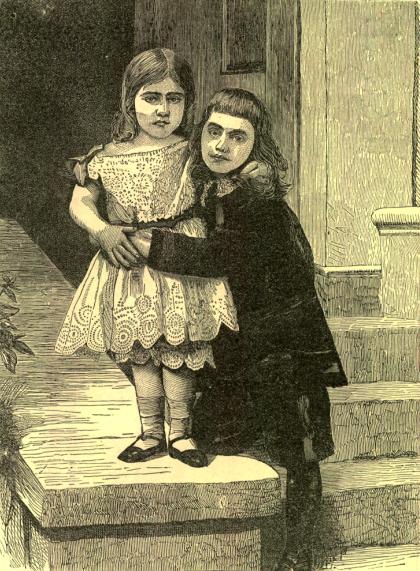 LOOKING FOR PAPA.
NOT long since, in traveling through the State of Iowa, I was obliged to go by stage from Elmwood to Niceville.
All ready! Shouted the driver, springing to his seat, and away we went, up hill and down, the driver cracking his whip, while the horses sprang forward, willing to do their best.
The scenery was pretty and varied, yet after a time I became tired of looking from the window so steadily, and commenced to scan the faces of my fellow passengers. There was one who attracted and held my attention. He had a manly, noble face, kind and true. He sat in one corner with an expectant look, watching from the stage window as we rode along. I knew that he must be going to meet loved ones, and I followed the direction of his gaze, wondering if I should catch a glimpse of his treasures.
Slowly sank the sun, lower and lower, and the day was almost done. "Ah!" finally broke from his lips, as we came into the suburbs of Niceville, "there they are!" I looked, and there was indeed a picture to gladden the eyes of any parent. A tiny girl, in white dress, and with long golden curls, stood on the broad stone step, while a boy some years older stood with his arms around her, both eagerly looking for papa.
"Papa has come! Papa has come!" they shouted as he alighted from the stage; and with bounding feet they came to meet him.
It was hard to tell who had the greater joy, the children who were waiting for the father, or the father who came home to meet his children.
As we rode on through the quiet streets of the village, I thought of the pleasant scene that I had just witnessed, and how delightful it was to wait the coming of those we love! I thought of the many dear children who once watched for father, as these now do, but they can do it no more. Death has come to the house, and never again will they see their father's face, or hear his welcome voice. Dear readers, you who have parents should be very thankful to God for them, and be kind and obedient to them.
V. A. M.