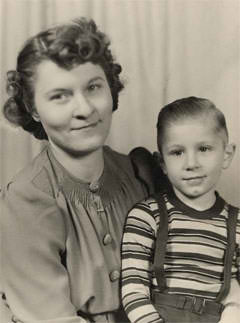 True Riches.
A LITTLE boy sat by his mother, looking
steadfastly upon some distant object. He
seemed to be lost in his own reflections. Then
as the deep thought began to pass away, his
eye grew bright and he spoke.
"Mother, I wish I could be rich?"
"Why do you wish to be rich, my son?" And
the child said, "Because every one praises the
rich. Every one inquires after the rich. That
man yesterday inquired after the richest man in
the village. At school there is a boy who does
not love to learn. He takes no pains to say well
his lessons. Sometimes he speaks evil words.
But the -children blame him not, for they say his
father is rich."
The mother saw that her child was in danger
of believing that wealth might take the place of
goodness, or be an excuse for indolence, or
cause those to be held in honor who lead
unworthy lives. So she asked him, "What is it
to be rich?
He answered, "I do not know. Yet do tell me
how I may become rich, that all may ask after me
and praise me!"
The mother replied. "To become rich is to get
money. For this you must wait until you are a
man. Then the boy looked sorrowful, and said,
"Is there not some other way of being rich that I
may begin now?"
She answered, "The gain of money is not the
only, nor the true wealth. Fires may burn it, the
floods drown it, the winds sweep it away, moth
may rust and waste it, and the robber make it his
plunder. Men are wearied with the toil of getting
it, but they leave it behind at last. They die,
and carry nothing away. The soul of the richest
prince goes forth like that of the wayside beggar,
without a garment. But there 'is another kind of
riches which is not kept in the purse. It is kept
in the heart. Those who possess them are not
always praised by men, but they have the praise
of God."
Then said the boy, "May I begin to gather this
kind of riches now, or must I wait till I grow up,
and am a man?" The mother laid her hand on
his little head and said, "To-day if you will hear
His voice; for he hath promised that those who
seek early shall find."
And the child said, "Teach me how I can become
rich before God." Then she looked tenderly
on him and said, "Kneel down every night and
morning, and ask that in your heart you may love
the Saviour, and trust in him. Obey his
Word and strive all the days of your life "to be
good, and to do good to all. So, though you may
be poor in this world, you shall be rich in faith,
and an heir to the kingdom of heaven."
Selected.