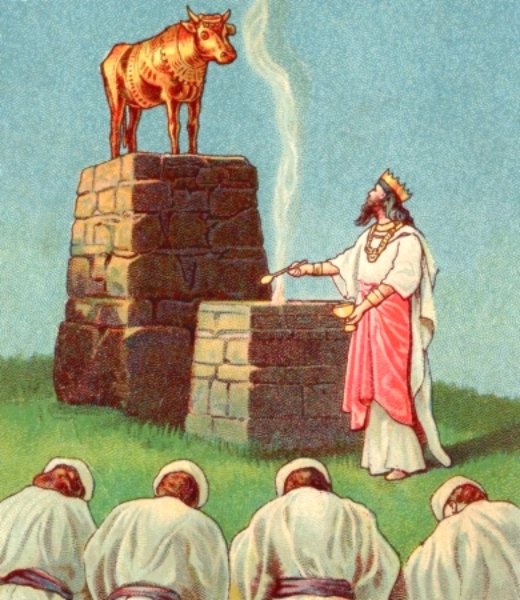 JEROBOAM LEADS
THE PEOPLE TO WORSHIP IDOLS.
JEROBOAM feared that if the people should go to Jerusalem to worship, they would finally leave him, and take the king of Judah to rule over them. So he made two calves of gold, and said unto the people, "It is too much for you to go up to Jerusalem: behold thy gods, O Israel, which brought thee up out of the land of Egypt.
And he set the one in Bethel, and the other put he in Dan. "Jeroboam then made priests of the lowest of the people, which were not of the sons of Levi. He also built altars, and on them the priests offered sacrifices unto the images, which he had made. In this way he caused the people to turn away from the Lord, and worship idols.
As Jeroboam was standing by one of these altars to burn incense, there came a man of God out of Judah, and said, "0 altar, altar, thus saith the Lord: Behold, a child shall be born unto the house of David, Josiah by name; and upon thee shall he offer the priests of the high places that burn incense upon thee, and men's bones shall be burnt upon thee." And he gave a sign, saying, "Behold, the altar shall be rent, and the ashes that are upon it shall be poured out."
When Jeroboam heard this, he put forth his hand, saying, "Lay hold on him." And the hand, which he put forth dried up, so that he could not pull it in again. The altar also was rent, and the ashes poured out, as the man of God had said. Then Jeroboam begged the man of God to pray for him that his hand might be restored. When his request had been granted, and his hand had become as it was before, he said unto the man of God, " Come home with me, and refresh thyself, and I will give thee a reward. "
"And the man of God said unto the king, If thou wilt give me half thine house, I will not go in with thee, neither will I eat bread nor drink water in this place: for so was it charged me by the word of the Lord, saying, Eat no bread, nor drink water, nor turn again by the same way that thou camest. So he went another way, and returned not by the way that he came to Bethel." But an old prophet that dwelt in Bethel, when he heard what had been done, went after the man of God, and brought him back to eat with him, saying that an angel had told him to do so. This was not true, and when the man of God had eaten and gone on his way, a lion met him and slew him. This was because he disobeyed the Lord.