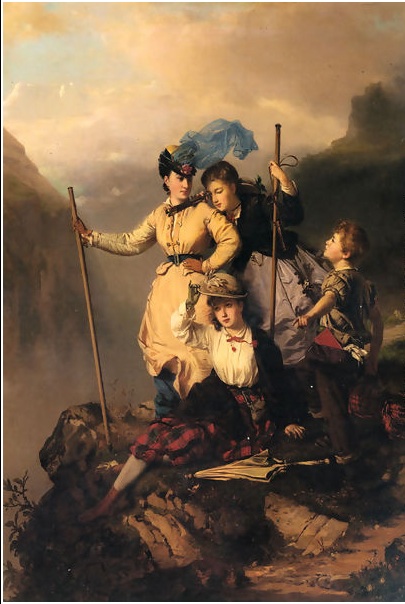 IRON SHOD.
THE safety of a mountain-climber depends upon being well shod. Therefore the Swiss guides wear heavy shoes with sharp spikes in the soles.
On a bright July morning, a famous scientist of England started with two gentlemen to ascend the Piz Morteratsch, a steep and lofty snow mountain in Switzerland.
Though experienced mountaineers they took with them Jenni, the boldest guide in that district. After reaching the summit of the Morteratsch, they started back, and soon arrived at a steep slope covered with thin snow. They were lashed together with a strong rope, which was tied to each man's waist.
"Keep carefully in my steps, gentlemen," said Jenni; "for a false step might start the snow and send us down in an avalanche."
He had scarcely spoken when the whole field of snow began to slide down the icy mountain-side, carrying the unfortunate climbers with it at a terrible pace. A steeper slope was before them, and at the end of it A precipice! The three foremost men were almost buried in the whirling snow. Below them were the jaws of death.
Everything depended on getting a foot-hold.
Jenni shouted loudly, "Halt, halt.'" and with desperate energy drove his iron-nailed boots into the firm ice beneath the moving snow.
Within a few rods of the precipice, Jenni got a hold with his feet, and was able to bring the party up all standing, when two seconds more would have swept them into the chasm.
This hair-breadth escape shows the value of being well shod when in dangerous places. Life is full of dangerous places, especially for the young. No boy is prepared for perilous climbing unless he is well shod with Christian principles. Sometimes temptation ices the track under him, and then he must plant his foot down with an iron heel or he is gone.
A poor boy of my acquaintance signed a pledge never to taste liquor. One day his rich employer invited him to dinner. There was wine on the table, but the lad was not ashamed to say,
"No, I thank you, sir. I never touch it." Then came on a rich pudding, which the boy tasted, and finding that there was brandy in it he quietly laid the tasted morsel back on his plate. The employer discovered that the boy had "pluck" enough to stand by his convictions, and he will never be afraid to trust him. He is a sure-footed boy.
God knows what steep places lie before us. He has provided the "shoes of iron and brass" for us to put on. They are truth, and honesty, and faith, and courage, and prayer.
A clear conscience will keep the head cool. And up along the hard road there is a sign-board, on which is written in large letters, "He that walketh uprightly, walketh surely."
T. L. Cuyler.