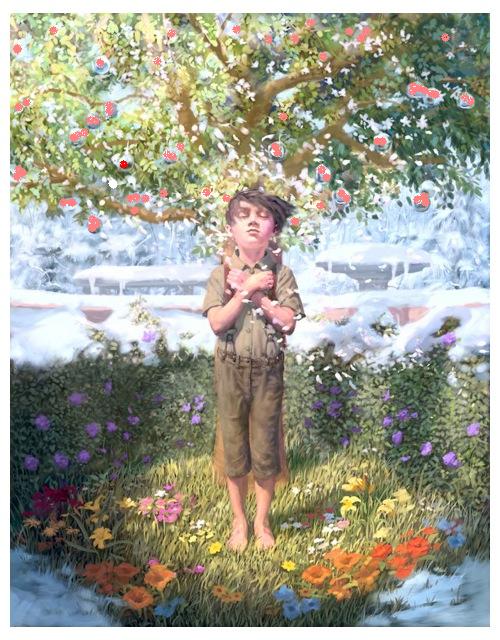 Look At This Picture
WILLIE AND THE APPLE.
LITTLE Willie stood under an apple tree old
The fruit was all shining with crimson and gold,
Hanging temptingly low; how he longed for a
bite,
Though he knew if he took one it wouldn't be
right.
Said he, 'I don't see why my father should say,
'Don't touch the old apple tree, Willie, today.'
I shouldn't have thought, now they're hanging so
low,
When I asked for just one he would answer me,
'No.'
"He would never find out if I took but just one,
And they do look so good, shining out in the sun;
There are hundreds and hundreds, and he
wouldn't miss
So paltry a little red apple as this."
He stretched forth his hand, but a low,
mourning strain
Came wandering dreamily over his brain;
In his bosom a beautiful harp had long laid,
That the angel of conscience quite frequently
played:
And he sang, "Little Willie, beware, oh, beware!
Your father is gone, but your Maker is there;
How sad you would feel if you heard the Lord
say,
'This dear little boy stole an apple today!'"
Then Willie turned round, and as still as a mouse,
Crept slowly and carefully into the house;
In his own little chamber he knelt down to pray
That the Lord would forgive him, and please not
to say,
"Little Willie almost stole an apple today."
-------------
Look on This Picture, Then on That.
"WILLIE, please bring in some wood; this
fire is getting low."
"Oh! dear; I can't, I have got to get
my lesson yet; besides it is Ned's work to
bring the wood for this stove."
Aunt Anne looks grieved, and baby's
little pug nose gets red with cold; so aunty
has to put him down and let him cry
while she gets the wood herself,
Willie looks and feels quite ashamed and
unhappy, but tries to excuse himself by
thinking, "Well, it was Ned's work, and
he ought to have done it."
Now look on this: "Sadie, hand mamma
her scissors from that shelf. Quick, child,
mamma is in a great hurry."
Sadie flies to the shelf, and, standing on
tiptoe, tries hard, but in vain, to reach the
scissors. Susie, who is studying hard over
a long example in complex fractions, sees
her fruitless efforts, and says, kindly, "Wait,
sis, you are not tall enough; I'll hand them
to you." Mamma's heart is gladdened to
see her daughters so pleasant and obliging;
and Susie goes back to her example, and it
seems perfectly clear from beginning to
end. So in helping others we often reap
greater good ourselves.
Which picture do you like best, children?
Let each one try to cultivate a kind and
obliging disposition, and be always ready
to help one another, and bear one anothers'
burdens, and "thus fulfill the law of Christ;"
for 'tis
Little deeds of kindness,
Little words of love.
Will make our home like Heaven,
That dear, dear, home above.
LAURA BELL.